TIME Magazine is out with it's short list for potential winners of the publication's longstanding "Person of the Year" award, and...well, let's just say the contenders are causing more than a few people to scratch their heads.
After a nod to Donald Trump as a possible winner, TIME laid out its other considerations for this illustrious honor that ultimately means nothing. Other nominess include: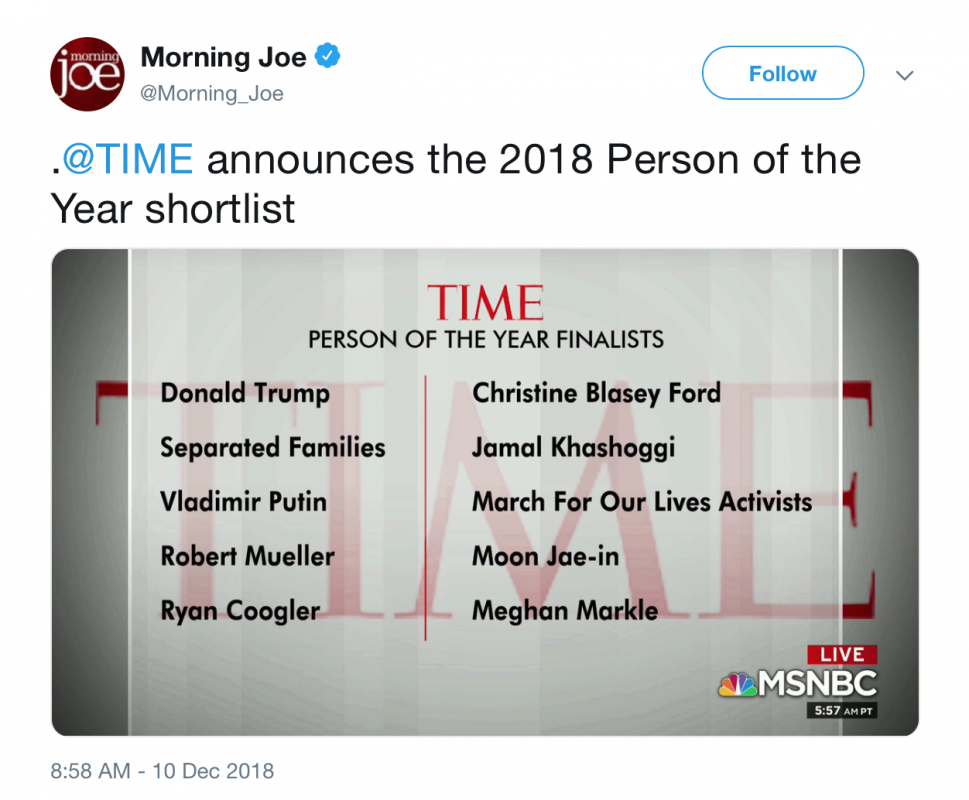 Yes, illegal aliens who knowingly broke U.S. immigration law – including hundreds who were caught claiming kids that weren't theirs – somehow ended up on TIME's list.
On the other hand, here are a few folks who notably didn't make TIME's short list:
Brett Kavanaugh: You know, the most recently appointed SCOTUS justice and the conveniently omitted other half of the infamous Christine Blasey Ford debacle.
Peter Wang: The 15-year-old freshman and JROTC student who died during the Parkland shooting while holding a door open allowing his fellow students to escape gunfire.
Sen. Cindy Hyde-Smith: Recently elected in November as Mississippi's first-ever female senator.
Senator-Elect Marsha Blackburn: The first woman elected to the Senate from Tennessee.
Mollie Tibbetts: a 20-year-old Iowa student authorities say was brutally murdered by a 24-year-old illegal alien from Mexico.
James Shaw: the 29-year-old who confronted a gunman at a Tennessee Waffle House, saving countless lives.
And these are just a paltry few.
But instead, TIME went with anti-gun activists who regularly accuse law-abiding gun owners of murder, illegal aliens willingly violating U.S. immigration law, and a woman who accused a man of committing a heinous sex crime with exactly zero proof and the sketchiest recollection skills since James Comey's email testimony.
Then again, this is also the same magazine that featured a highly-deceptive photo of a little immigrant girl to score political points, so what should we expect?