How much do you love symbols of the Christmas holiday season? Would you say you have about $10 million worth of Christmas cheer? If you do, you can buy Santa Claus and Rudolph the Red-Nosed Reindeer — kinda.
According to PIX 11 - New York:
Fans of the 1964 holiday-cartoon classic "Rudolph the Red-Nosed Reindeer" have a chance to snag one of the most expensive pieces of memorabilia out there.

Peter Lutrario, the owner of the Rudolph and Santa puppets is selling the pair that appeared on the Rankin/Bass TV special and asking for a whopping $10 million in an eBay auction.

Rankin/Bass expert Rick Goldschmidt, who used to bring these exact puppets to events, said you can't put a price on them. The pair are two of several puppets used in the creation of the special, which used an iconic stop-motion technique called Animagic.
Though these particular iterations of Santa and Rudolph are extremely rare, Goldschmidt admits that "No one's going to pay $10 million."
What's even more ridiculous about this eBay listing — it actually gave me a little chuckle — is that Lutrario is charging a shipping fee on top of the $10 million. The fee? $7.60. Usually eBay sellers will eat the shipping cost if an item is considered pricey.
Here's a screenshot of the listing: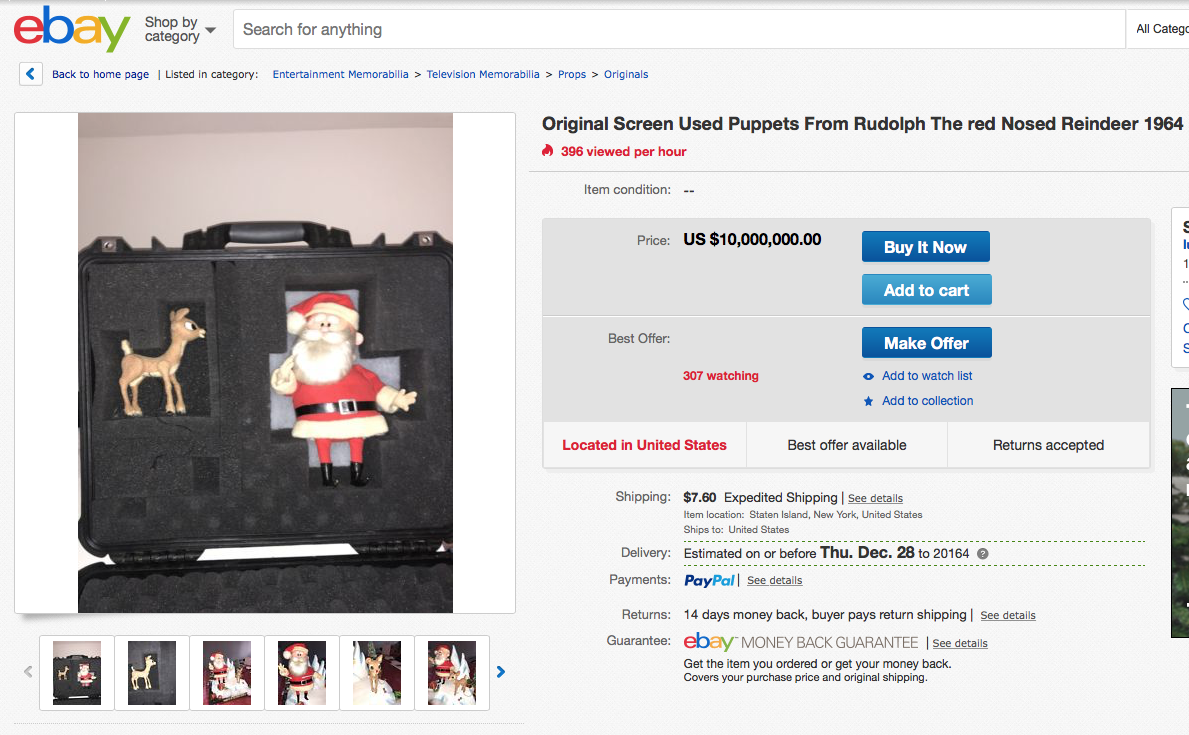 Even though there are currently 318 "watchers" of this listing (as of this writing), Lutrario doesn't expect the puppets will sell at their current price tag.
"I was just curious to see what the market would bear," Lutrario said.
To be honest, the Santa and Rudolph puppets should be in the television wing of the Smithsonian — or some other museum — instead of being pimped out for an exorbitant payday on eBay. Goldschmidt agrees.
"It's just sad to see the puppets being put on eBay," Goldschmidt said. "People love to see them. It's something that's a treasured part of Americana. I'd like to see it in a museum — not in someone's briefcase."