The liberal habits of stupidity, hypocrisy and being perpetually offended isn't exclusive to those in the U.S. We can now add Scotland to the mix.
An Edinburgh University law student is under investigation by the school for allegedly perpetrating a "hate crime" after he mocked ISIS.
Robbie Travers -- who is also a writer for the Gatestone Institute, according to his Facebook page -- is in hot water with university officials after another student complained about two Facebook posts Travers made in April following the U.S. bombing of an Islamic State (ISIS) compound in Afghanistan.
Here are the two posts in question: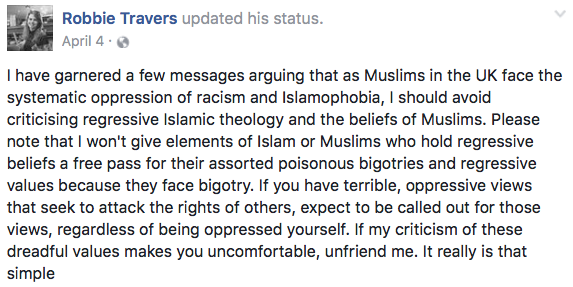 Unfortunately, unlike those who criticize Islam in the U.S., Travers doesn't have free speech in Scotland.
According to the Scotland Police website, "A hate incident is any incident that is not a criminal offence, but something which is perceived by the victim or any other person to be motivated by hate or prejudice."
Firstly, if it's not a criminal offense, then why is it considered a crime? And secondly, these "hate crimes" are subjective to the person hearing the speech. What is offensive to one person might not be offensive to another person.
Travers found himself up the social justice creek after Esme Allman, a "second-year history student and the former black and ethnic minority convenor of the university's students' association," complained about the post.
And, juding by her comments, this social justice crybaby believes that "hate crimes" should only be construed one way.
Here's what Allman had to say, according to her complaint:
Not only do I believe this behaviour to be in breach of the student code of conduct, but his decision to target the BME Liberation Group at the University of Edinburgh, and how he has chosen to do so, puts minority students at risk and in a state of panic and fear while attending the University of Edinburgh. While I have not met him personally, given my matriculation at the University of Edinburgh, my membership of the Black and Minority Ethnic Liberation Group at the university, and how I identify personally, I take issue with this clear and persistent denigration and disparagement of protected characteristics and blatant Islamophobia.
Well, Allman certainly has the radical liberal tactic of promoting "panic and fear" as her ridiculous reason for wanting to persecute Travers. And of course, she brought up "Islamophobia."
Apparently, it's Islamophobic to bash a terrorist organizations such as ISIS. After all, it's not like ISIS has done anything worthy of scorn -- like beheading people, lighting them on fire or drowning their victims in a cage.
Oh wait! They've already done all those things!
Travers responded to the investigation twice within the last day through Facebook: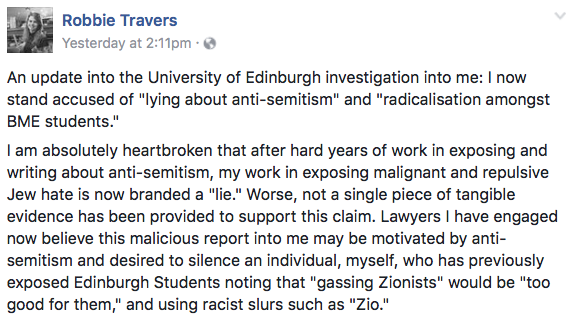 Good luck, Robbie. Don't let The Man (or woman, or whatever pronoun we're using this week) get you down.