The Emmys, always full of surprises! Or maybe not.
If there is one thing that doesn't surprise anyone about this award show, it has to be the disingenuous "thank you speeches".  It's quite annoying when celebrities get up and thank God for blessing them while they've done work that God wouldn't approve of.  It's even more annoying when someone thanks a God they claim doesn't exist while at the same time deciding to refer to God as a woman.
Thandie Newton, winner of the Emmy Award for Outstanding Supporting Actress for her role as Maeve Millay in the drama series, "Westworld", made sure she kept up the tradition of "thanking God" for her performance in a rather unusual way, "I don't even believe in God, but I'm going to thank her tonight." This statement managed to get the crowd to laugh and cheer as Newton went on, "I am so blessed, I am so blessed, without this [the award] I am so f***ing blessed."
Blessed? By Whom? How can you not believe in God and thank something that is? Confusing? It should be, because it makes no sense! Newton is saying she doesn't believe in God while still holding the belief that God exists as a woman.  To a lesser extreme, that's the same as claiming your parents never existed but you want them to come over for dinner so you can thank them for what awesome parents they are.  Not to mention your parents are also pandas.  Neither of these claims make any sense!  Logic much?
The Emmy Award winning actress managed to beat out 6 other actresses for her performance, including Lena Headey of Game of Thrones and Millie Bobby Brown of Stranger Things, and lots of her fans showed support for her win and also showed their appreciation for her "enlightening" words: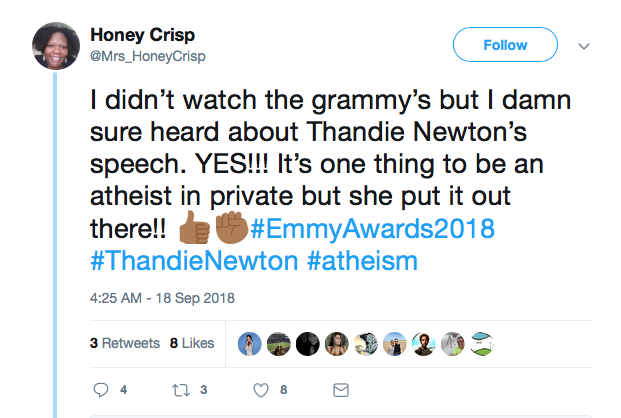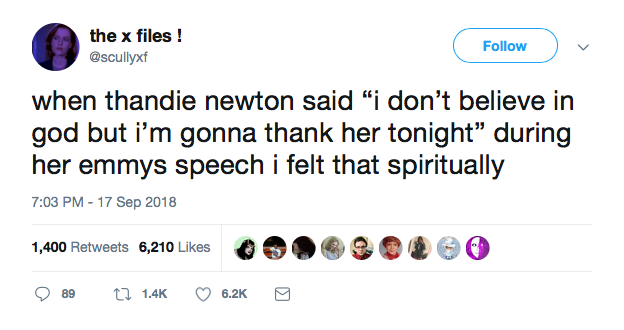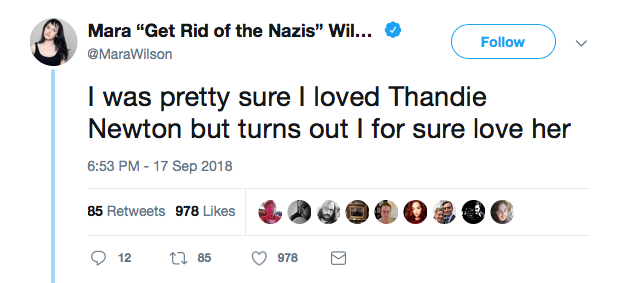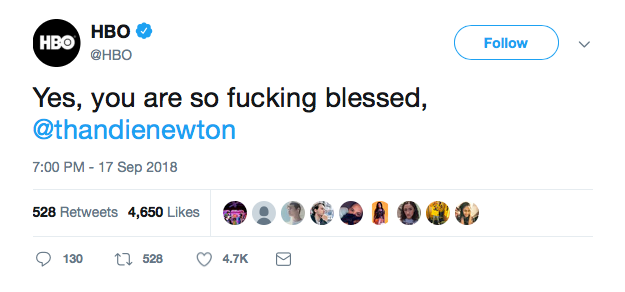 Even with these fans giving their approval to Newton, there were some out there who couldn't let her foolish words go unnoticed: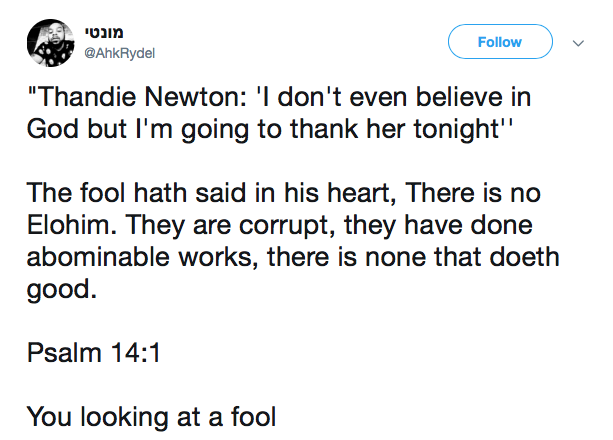 Here is the video (speech starts at 1:52), don't lose your logic or your mind while watching: