Texas police officer Lt. Eric Ellison was tasked last week with telling an 18-year-old boy that his parents had been killed by a drunk driver.
Upon hearing the news, a listless Kazzie Portie, the youngest of five children, shared with Ellison that he was supposed to graduate from Little Cypress-Mauriceville High School in less than a week.  
Then and there, Ellison promised Portie that he would be at his graduation to stand in his parents' place.
"Your mom and dad will have front-row seats looking down from heaven, and I'll stand in their place," he told Portie. "I've got your back."
Sure enough, the Orange County police officer made it to the young man's ceremony.
Waiting on the edge of the stage, Lt. Ellison made sure to be the first to congratulate Portie upon acceptance of his diploma.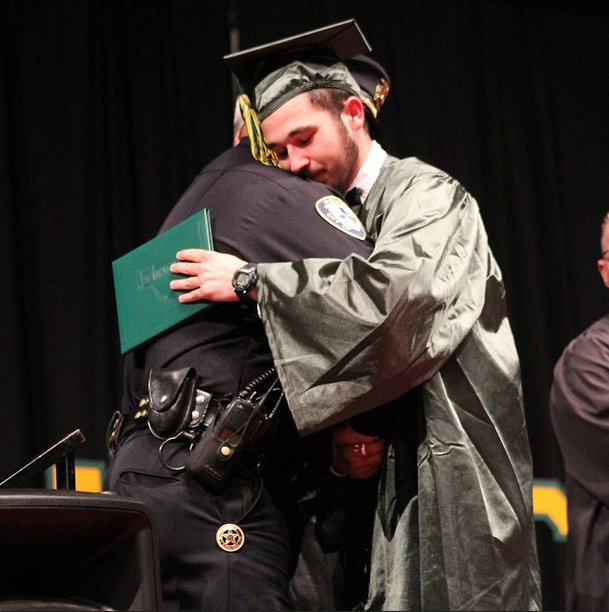 "I walked up on stage. He looked at me and I looked at him and we both cried and that's OK," Lt. Ellison told KMBT-TV.
When the two met on stage, the stadium erupted with cheers and applause.
His older brother Blake Henning posted a video onto his Facebook page showing the entire audience on its feet. 
"If you didn't have a wet eye, you needed to check your pulse," said Lt. Ellison. "The Montagne Center was the loudest I ever heard it. The class of 2015, 245 seniors and their families, on their feet and everyone right behind him."
"The life struggles you see out here, it was rough on the kid, on the family," he said.
"Sometimes life is not fair but you have to go on and I think Kazz is going to do that."
According to Ellison, Kazzie Portie plans to stick with his plans to go to college, sure to make his parents, his siblings, and the world proud.
Riley and Emily Portie died Sunday, May 24 when a man driving a pickup truck rammed into their motorcycle.
The driver, 29-year-old Travis Collins, now faces two charges of intoxication manslaughter, reports KBMT-TV.
Lt. Ellison told the local station that delivering the heartbreaking news was one of the hardest things he has ever had to do over the course of his 21-year-long career, but that he was honored to stand in for Portie's parents at his graduation. 
On his personal Facebook page, Ellison wrote that he was thankful for the outpour of support soon after the story went viral, but that all of the attention should be on Portie and his big moment. Ellison also expressed his gratitude to the Little Cypress-Mauriceville community for making that moment so special. 
"I just want everybody to remember that through this tragedy, this was ALL about Kazzie and his day to shine," he said. "I just did what I would want someone to do if I had left my girls early."
"Seeing Officer Ellison there to congratulate me meant the world to me," Kazzie Portie told BuzzFeed. "It was so nice to see that he actually showed a genuine care for me and my family's situation instead of us just being another 'case.'"
"My parents talked in the last month how proud they were of me for graduating, and not just for graduating, but how proud of me they were for the man I have become," he said. "And knowing all of this, truly warms my heart with joy."