UPDATE 9:50 AM Pacific Time: 
The suspect involved in a stabbing incident on London Bridge on Friday has been shot dead by police. The incident has officially been declared a terrorist attack. Several are said to have been stabbed as an investigation into the matter continues. 
BBC reports,
The Met Police has declared the attack a terrorist incident.

The suspect, who died at the scene, was believed to have been wearing a hoax explosive device, police said.

A BBC reporter at the scene said he had seen a fight on the bridge, with several men restraining one man. Police then arrived quickly and a number of shots were fired at him, he said.

Details are still emerging and Neil Basu, the head of UK counter-terrorism policing, said the force was keeping an open mind over the motive.

He said officers were called to a stabbing at a premises near the bridge just before 14:00.
Metropolitan Police have asked civilians to "remain vigilant."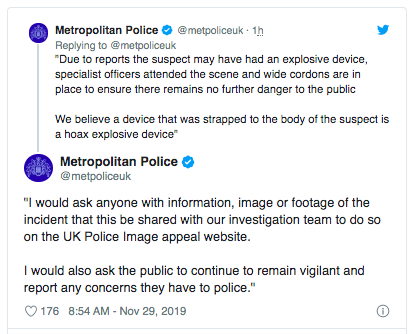 President Trump issued the following statement in response to the news:
Original Story:
London's Metropolitan Police Service are responding to an "incident" on London Bridge reportedly involving a man with a knife and several bystanders who jumped in to subdue him.
Daily Mail reports that at least one person has been killed and five others injured. The outlet also reports that the incident is being treated as "terror-related":
Dramatic video filmed at the scene around 2pm this afternoon shows at least four people struggling with a man on the ground before armed police officers step in.

The officers tell the people on top of the suspect to move away, before dragging the last bystander to safety and opening fire. One of the bystanders is holding a knife which seems to have been taken from the suspect.

The suspect lies wounded on the ground, but still moving as officers back away - clearly fearing that they are still in danger, potentially from explosives. 
Police have evacuated London Bridge station and the surrounding area. Police say the man has been "detained" and that "a number of people have been injured."
"Just a few minutes ago I was walking across London Bridge on the south bank to the north bank of the bridge. There appeared to be a fight going on on the other side of the bridge, with several men attacking one man. Police then quickly arrived, including armed police, and then a number of shots were fired at this man," he said.
This incident comes two years after the 2017 London Bridge terror attack that killed eight and injured 48 people.
This story is developing.