Sara Goldrick-Rab is a professor of Educational Policy Studies and Sociology at the University of Wisconsin-Madison.
Like many Wisconsin professors, Sara is angry that Governor Walker (R-Wisc.) signed into law a state budget axing tenure for college professors. 
Here is what Professor Goldrick-Rab had to say: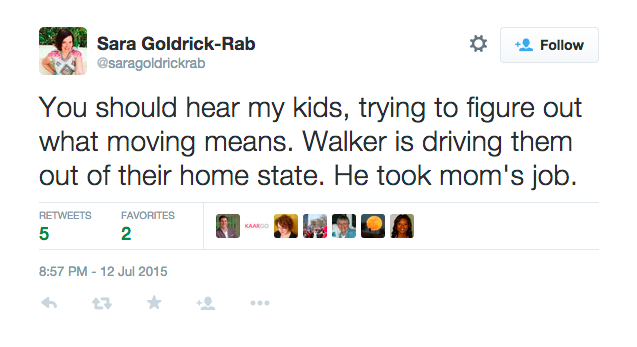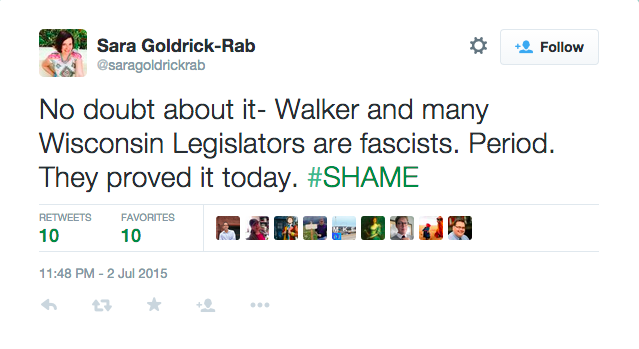 And perhaps the most disturbing tweet of them all: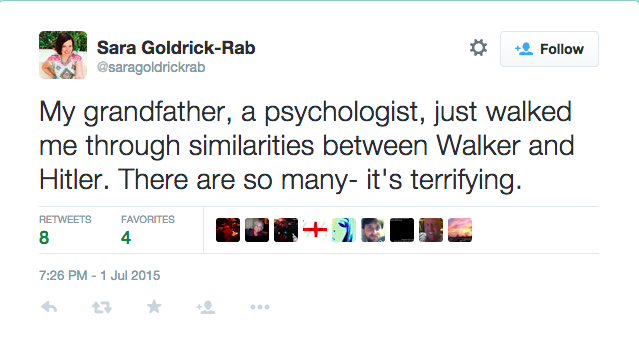 Similarities between Scott Walker and Adolf Hitler?!
When reached for comment by TheCollegeFix, Professor Goldrick-Rab had this to say:
"If you reread the tweet, you will see that I stated that an expert in the field – a psychoanalyst with decades of experience – compared the 'psychological characteristics' of the two individuals, and that I was struck by his analysis. There do appear to be commonalities."
What commonalities, Sara? Is your intellectualism being challenged when asked to be specific?
Even more recently, she took to Twitter to voice her concerns with Governor Walker's education: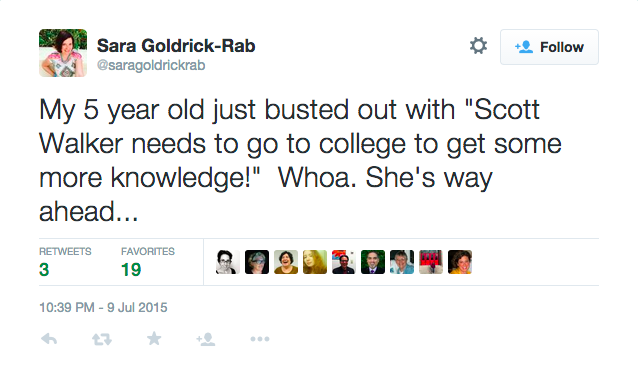 Had Mrs. Goldrick-Rab done her research before ranting on Twitter, she would have discovered that Governor Walker did go to college, but chose to discontinue his studies when offered a full-time job with the American Red Cross. So yes, Governor Walker does aline with the 70% of American adults over age 25 who do not hold a bachelor's degree, but does that somehow make him disqualified from running for office?