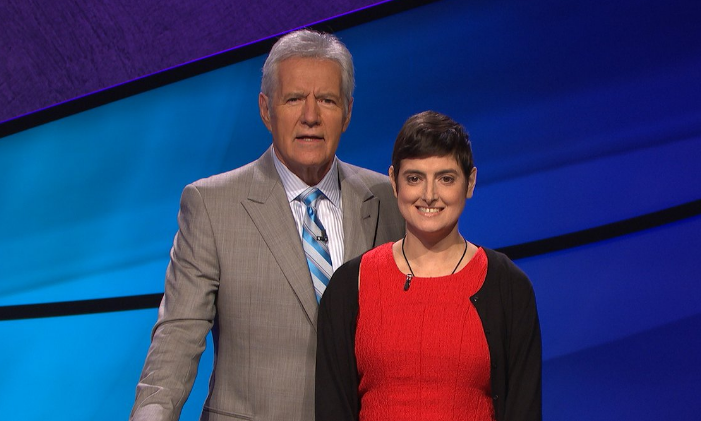 (Image: Screenshot/Twitter @habcous)
Dreams still come true, even if you only get to cherish the memory of it for a short time.
Cindy Stowell achieved her dream Tuesday of appearing on her favorite game show, "Jeopardy!"
Unfortunately, Stowell passed away on Dec. 5 after succumbing to her long-time battle with stage 4 cancer, before her winning episode ever aired, according to her longtime partner, Jason Hess.
The episode was filmed back in late August, and only a handful of the show's staff knew of Stowell's disease, including host Alex Trebek. The other contestants had no idea of Stowell's terminal illness.
Stowell was afraid that the time between trying out for the show and the actual filming would be too far apart for her to make an appearance before she passed. But following her succesful audition for the show, producers who knew of Stowell's diagnosis assured her that they'd scheduled her for a taping in the near future. Sure enough, three weeks after her audition, Stowell was on the "Jeopardy!" stage, living out her dream.
Knowing she was going to pass away, Stowell said that if she won, she would donate her winnings to cancer research.
According to CNN:
"Cindy came on "Jeopardy!" to play the game she loved and in doing so she was able to make a contribution to cancer research in the hopes that no one else would have to go through what she did," her brother Greg, mother Carole, and Hess said in a statement.
And win, Stowell did. The brave contestant won an astounding $22,800 during her victorious episode of the show.
Trebek said, "Competing on "Jeopardy!" was a lifelong dream for Cindy, and we're glad she was able to do so."
We are, as well.