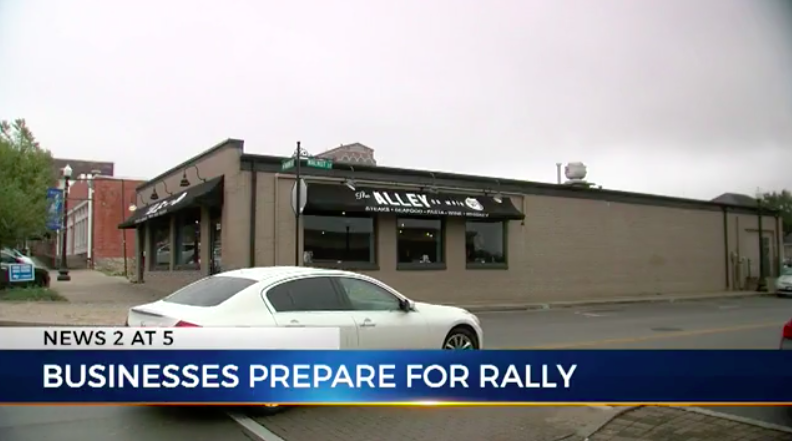 Image via Screenshot
Businesses in Murfreesboro, Tenn., are preparing for the worst, planning to close shop and board up their windows ahead of a white nationalist rally this weekend, reports WKRN Tennesee.
The Nationalist Front, which says it's committed "to struggle for the White Nationalist vision" on its website, and the League of the South, designated a Neo-Confederate hate group that seeks to "free" the South by seceding from the United States, plan to hold a rally downtown in support of the white nationalist movement in America and the idea of "White Lives Matter."
Counter protesters are also expected to attend. 
After the violence in Charlottesville in August, businesses in the city have taken all of the necessary precautions, having met with city, police and sheriff's office officials last week to discuss what best action to take.
Business owners, city officials and law enforcement decided that it would be best if businesses closed for the weekend for the safety of owners and customers.
The rally is planned for Saturday afternoon. The groups are also planning to rally in Shelbyville, Tenn., Saturday morning. City officials and law enforcement have been meeting for the last two weeks to prepare for both rallies. 
For more, check out the WKRN report below. 
MRCTV Reader,
The liberal media are terrified of the truth, especially when it leads to uncomfortable questions about their own leftist worldview.
MRCTV is the multimedia division of MRC featuring original content and aggregated videos of the news, people, and events conservatives care about.
MRCTV relies on the support of our loyal readers (and video viewers) to keep providing the news and commentary that matter to the American people, not just stories that prop up the liberal agenda.
Make a donation today. Just $15 a month would make a tremendous impact and enable us to keeping shining the light where the liberal media are afraid to tread.
— The MRCTV Team
DONATE
Connect
Sign up for our MRCTV newsletter to receive the latest news.
Sponsored Links