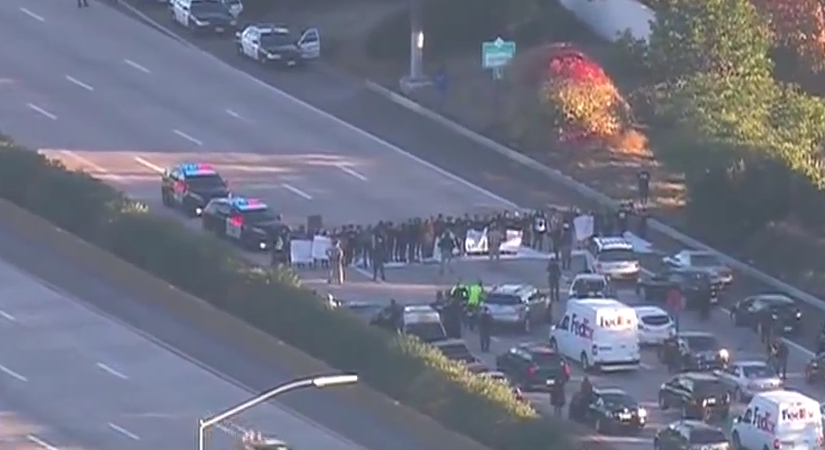 Nothing better to do with your day except block average, everyday people from getting to work? Protesting in the middle of a busy street or highway might be for you!
That is, unless you plan to live in Tennessee after July 1.
A bill has been proposed in the Tennessee State Legislature that says people who happen to hit a protester blocking traffic will be immune from civil suits brought against them by said protester.
Sen. Bill Ketron (R-Murfreesboro) introduced the bill that protects motorists from civil lawsuits should they accidently hit someone protesting in the middle of a street or highway. However, the bill does say that the protester may still file a civil suit against the driver should the accident be deemed intentional.
The bill states:
A person driving an automobile who is exercising due care and injures another person who is participating in a protest or demonstration and is blocking traffic in a public right-of-way is immune from civil liability for such injury.

A person shall not be immune from civil liability if the actions leading to the injury were willful or wanton.
"We believe that citizens have the right to protest," Ketron said in a statement. "There is a procedure for peaceful protests, and the purpose of that process is to protect the safety of our citizens. Protesters have no right to be in the middle of the road or our highways for their own safety and the safety of the traveling public."
This bill protects the average person from protesters who think they're entitled to disrupt everyone else's day just because they want to be heard about a topic that they usually know very little about. Just because they are starving for attention doesn't entitle them to try and get the attention from people trying to go about their day.
Sponsor of the bill, Rep. Matthew Hill (R–Jonesborough), put the point of this into terms that even the most ardent protester might possibly be able to understand:
We are not endorsing anyone running over a person with a car, whether it is protesters or anyone else. If someone intentionally harms a person, they are going to be charged with a crime, period. There is a clear difference, however, between peacefully protesting and lawless rioters in the middle of a public roadway who jeopardize the safety of our families. This is a public safety bill that is meant to protect everyone's right to peacefully protest and I look forward to seeing this commonsense legislation passed into law.
Opponents of this measure, such as Concerned Citizens for Justice member and protester Asyja Pryor, say that this bill is counterproductive to those that want to be heard.
"I think that is is directly harmful for people who are trying to exercise their First Amendment right," Pryor stated.
The DNC has similarly come out against such state bills, stating the GOP now wants to make it "legal to run you over with a car."
Peacefully protest all you want, but use your coconut every now and then and realize that protesting in the middle of a busy street or highway might not be the best possible method.