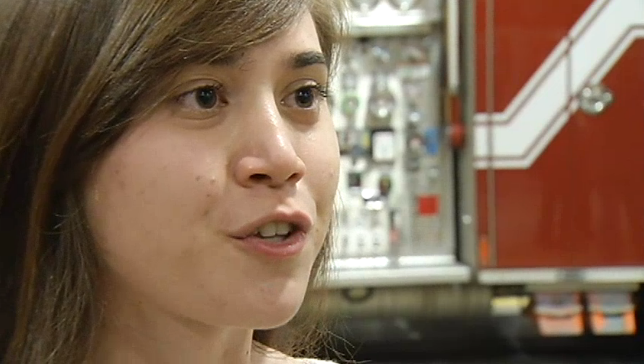 Image via Screenshot
A 19-year-old woman from Northern Virginia is being celebrated as a hero after lifting a burning pick-up truck off her dad and saving her family from a deadly fire.
"Her father, Eric Heffelmire, was working on an old GMC truck in the garage of the family's Vienna, Virginia home Nov. 28. when a jack he was using slipped," NBC Washington reports. "Within seconds, he was pinned beneath the huge vehicle and the garage had caught fire."
"We had a bunch of propane containers and they were cooking off -- just fireballs," he told the local station.
After struggling for about 10 minutes, his five-foot-six, 120-pound daughter Charlotte barged into the garage, barefoot, and went straight for the truck.
"I felt the weight shift, and I said, 'You almost got it,' and then it was just UGHHHHHHRRR, and suddenly I'm pulled out," Eric Heffelmire said.
With her father out from under, Heffelmire jumped in the driver's seat of the truck and gunned it, on just three wheels, away from the family house for fear of the vehicle's gas tank exploding.
She then grabbed a garden house and sprayed down their home until firefighters arrived, helping her grandmother and 3-month-old niece to escape the smoke and flames.
Heffelmire sustained a back injury and burns to her feet and hands from the incident, preventing her from returning to her studies at the U.S. Air Force Academy.
She told NBC that, whether she gets to serve in the military or not, her future career will involve public service.
"If I can't do any of the military branches, then probably just intelligence or government work," said Heffelmire. "Right now I'm just healing up and making sure the family is OK."
To celebrate her bravery, the Fairfax County Fire Department and Rep. Jim Moran (D-Va.) presented Heffelmire with the Citizen Lifesaving Award on Thursday, NBC Washington reports.
For more, check out the News4 report below.