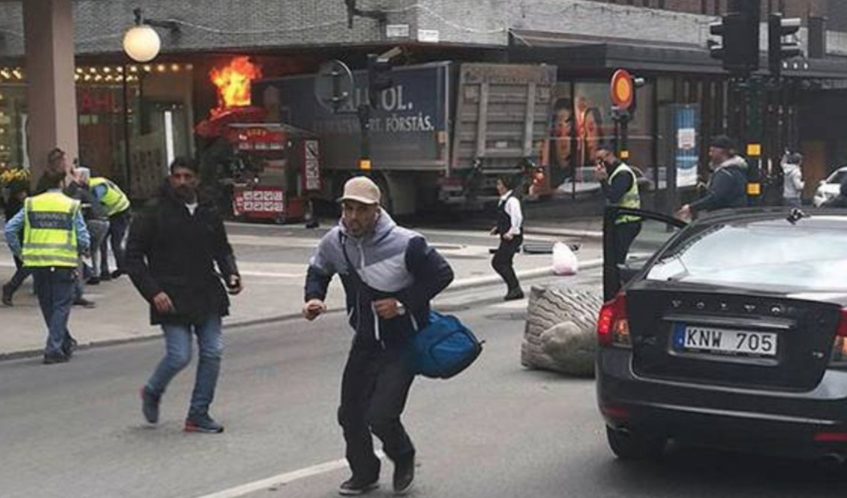 (Image: Twitter/@Breaking911)
Update (4/7 2:19 p.m.): Swedish Prime Minister Stefan Lofven commented on the truck attack in his country, according to Fox News:
"Sweden has been attacked. Everything points to the fact that this is a terrorist attack," Prime Minister Stefan Lofven told reporters during a visit in western Sweden.

In a statement Friday, they said that they cannot exclude this is an act of terror based on other events in Europe.
Original Story: There have been reports that a truck ran wildly through a crowd of people in Stockholm, Sweden on Friday.
Fox News has reported that, according to Swedish radio, three people have been reported dead so far as a result of the crash. It is also being reported that shots have been fired in the area.
According to the Independent:
The incident occurred at Ahlens Mall in Drottninggatan, a shopping area of the city, which has been cordoned off.

A witness told Swedish daily paper Aftonbladet: "I went to the main street when a big truck came out of nowhere. I could not see if anyone was driving it but it got out of control. I saw at least two being run over. I ran as fast as I could from there."

Another witness told the paper they saw hundreds of people "running for their lives" outside the shopping centre.
Despite there being no word as of yet on what the motivation or intent of the incident might be, this seems to follow the pattern of recent lone-wolf terrorist attacks.
In July 2016, a truck plowed through a crowd of people on Bastille Day in Nice, France, killing 85 people in a similar attack.
In December of last year, 12 people were killed in another truck attack in Berlin, Germany.