Apparently, all you have to do to avoid years of prison for allegedly raping a girl and leaking classified information is to plant yourself in an Ecuadorean embassy for five years.
The country of Sweden has reportedly decided to drop its investigation into Wikileaks founder Julian Assange's rape case, essentially because they simply can't get to him.
The BBC reported:
Top prosecutor Marianne Ny said his arrest warrant was being revoked as it was impossible to serve him notice.

Mr Assange, 45, has lived in the Ecuadorean embassy in London since 2012. He fears extradition to Sweden would lead to extradition to the US where he is wanted over leaks.

While Assange has always claimed that he didn't rape the women bringing the charge against him, the plaintiff has "maintained her accusations against Mr. Assange, Agency France-Presse reported."
Assange still could face charges of leaking classified material, should he ever decide to take on step off the Ecuadorean embassy's grounds.
Instead of breathing a small sigh of relief, Assange took to Twitter to intimate his displeasure over his ordeal.
Here's the tweet: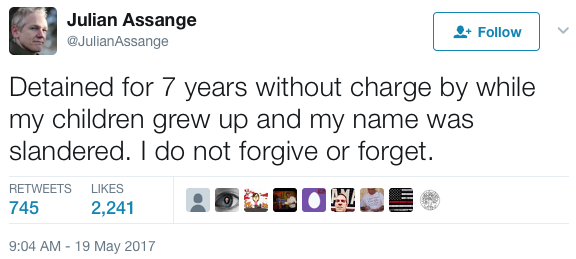 According to the New York Times:
The investigation could be reopened, she said, if Mr. Assange returned to Sweden before August 2020, the time limit for prosecution specified by the statute of limitations.

Per Samuelsson, a lawyer for Mr. Assange, told the Swedish television network SVT that the decision was "a big victory" for his client. He described Mr. Assange as a free man, although he conceded that "the United States is chasing him."
U.S. Attorney General Jeff Sessions told the press back in April that the U.S. would aggressively pursue legal action against Assange for leaking classified material via his website Wikileaks. 
Here are Sessions' comments:
We are going to step up our effort and already are stepping up our efforts on all leaks. This is a matter that's gone beyond anything I'm aware of. We have professionals that have been in the security business of the United States for many years that are shocked by the number of leaks and some of them are quite serious.
While this could be construed as a victory for Assange, he is definitely not out of hot water yet.