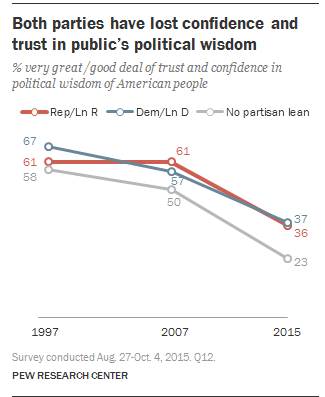 A newly-released study by the Pew Research Center finds that not only do Americans distrust their government, they also do not trust their fellow Americans to make good political decisions. 
According to the study, in 2007, 57 percent of the American people had "at least a good deal of confidence" in the political wisdom of the people, while 41 percent did not. Today, only 34 percent say they have a "very great deal or good deal of confidence in the wisdom of the American people when it comes to making political decisions." The poll shows 63 percent say they have little to no confidence in the political wisdom of their fellow Americans.
This drop in confidence when it comes to Americans' collective ability to choose their leaders and make political decisions cuts across party lines.
In 2007, 61 percent of Republicans, 51 percent of Democrats and 50 percent of Independents expressed confidence in the political decision making skills of the American electorate. Today, 36 percent of Republicans, 37 percent of Democrats and only 23 percent of Independents hold the same view.
The sharp drop has occurred mostly during President Obama's tenure as president but, clearly, voters of all political stripes have lost a great deal of faith in the ability of other people to make the political decisions that they believe would benefit the country. 
It stands to reason that most Americans who vote trust their own judgment or else they would simply stay home. But, it also makes sense that Americans would blame others when they are faced with a political result that they disagree with. 
The results of the study were based on telephone interviews conducted from Aug. 27- Oct. 4 among a national sample of 6,004 adults, 18 years of age or older.