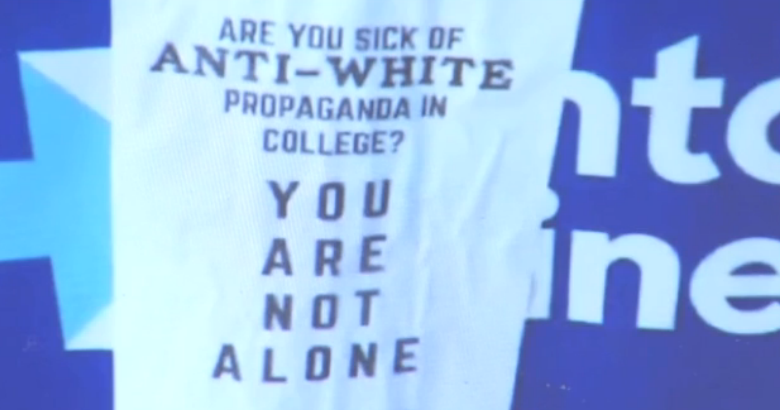 The University of Iowa is instructing students to use an app to report "hateful" fliers criticizing "anti-white propaganda in college" to the police.
KCRG-TV9 reports the "offensive" fliers have been discovered at the Latino Native American Cultural Center, the LGBTQ Resource Center, and the Afro-American Cultural Center. The flier was also found on a bulletin board in a dorm room.
The report claims the fliers "target the Latino, Native American, African American, and LGBTQ communities" although the fliers make no disparaging reference to any particular minority group. Instead, the flier shown reads, "Are you sick of anti-white propaganda in college? You are not alone."
The fliers allegedly cover signs showing support for Democratic presidential candidate Hillary Clinton.
According to the Gazette, the University of Iowa Vice President for Student Life Tom Rocklin condemned the fliers as being "deeply offensive to some members of our campus community, adding they "do not reflect the values of our institution."
"The University of Iowa is committed to maintaining an environment that promotes the robust exchange of ideas. We are equally committed to maintaining an environment that recognizes the inherent worth and dignity of every person and that fosters tolerance, sensitivity, understanding, and mutual respect," he said.
Rocklin added, "The UI statement encourages a campus that embraces diversity, demonstrates leadership and demands respect of everyone who uses our shared space."
The university told KCRG-TV9 that students should report the fliers and other "suspicious activity" using the "Hawk Watch" app.
"It's called Hawk Watch, and that's a great way you can take a picture of fliers if you see them and send them into the police and they have an open investigation on that," a university staff member told KCRG-TV9.
The fliers have been removed and campus police are currently investigating the matter.
Rocklin suggested students who are "seeking help" as a result of the fliers should speak to the University Counseling Services, the Center for Diversity and Enrichment, the IU Dean of Students Office, Women's Resource and Action Center, the Office of the Ombudsperson, the Office for Graduate Inclusion, and the IU Employee Assistance Program.