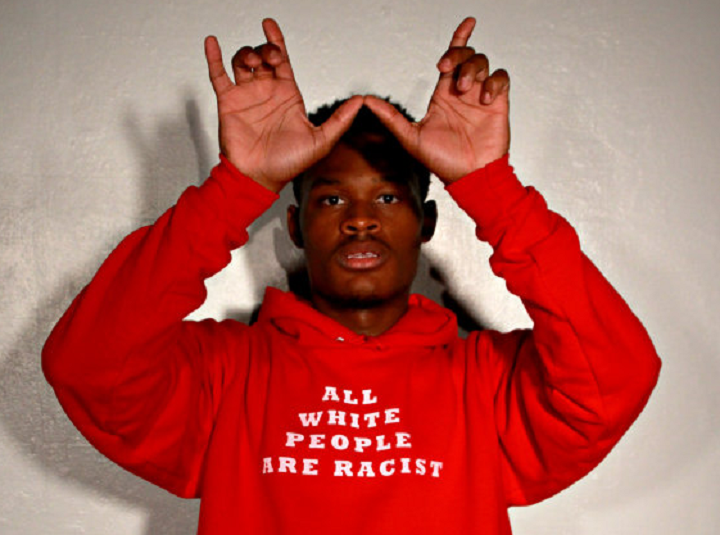 While most people that make money off of racism (like Al Sharpton) try to shy away from being called either a "race hustler" or "race profiteer," a student at the University of Wisconsin-Madison (UW) has no problem showing just how racist she is.
This young lady doesn't just stop at race when it comes to making money off of the social issues she deems so important that yelling at people about it isn't enough. Now she wants everyone, regardless of whether they agree or not, to be able to see her message through clothing.
Campus Reform found the seller's page on Etsy, called InsertapparelShop. Their page lists just four clothing items, because one of the items they produced is now sold out -- a hoodie that claims "All White People Are Racist."
That's the unity we're always being pelted over the head with. But that's not all! The remaining articles of clothing they are selling display the following messages:
A Muslim woman in a hijab wearing a sweatshirt that reads: "If I encounter another cop with a GOD COMPLEX I'm going to have to SHOW THE WORLD that they are HUMAN"
A black male sporting a hoodie that reads: "YOU CAN'T be a REVOLUTIONARY and HOMOPHOBIC"
A black woman wearing a hoodie that reads: "ATTENTION! BLACK MEN: If you're talking about DISMANTLING A SYSTEM, you better include PATRIARCHY"
Finally, another black woman wearing a long-sleeve t-shirt that says: "BLACK GIRL MAGIC"
I am all for free speech. But when that speech incites racism and hatred while representing the only segment of the population that could pull off wearing something that egregious without reprisal, then free speech turns into hate speech.
This stuff is hateful, bigoted and hypocritical. You can't have peace without unity, and you certainly can't have unity when you're profiting off of the very thing you're supposedly fighting against.
Use your noodle just a little, will ya?
Thank you for supporting MRCTV! As a tax-deductible, charitable organization, we rely on the support of our readers to keep us running! Straight from Founder and President, Brent Bozell, please read the MRC request for support here to see how you can join the movement!