The terror suspect believed to have killed three people during a shooting rampage near a Christmas market in Strasbourg, France has been shot dead after exchanging fire with police on Thursday.
Reuters reports,
Cherif Chekatt, 29, was killed in the Neudorf/Meinau area of the city shortly after a big police operation was launched around 2100 hrs (2000 GMT) on Thursday about 2 kilometers from where he launched his attack on Tuesday.

Chekatt was killed after firing on police officers, who returned fire, one of the sources said.

…

Reuters reporters near the scene heard three to four gunshots after armed police officers and units launched their operation, backed up by a helicopter circling overhead.
French President Emmanuel Macron tweeted his gratitude to the law enforcement involved in the two-day manhunt for the terror suspect, adding, "Our commitment to terrorism is total."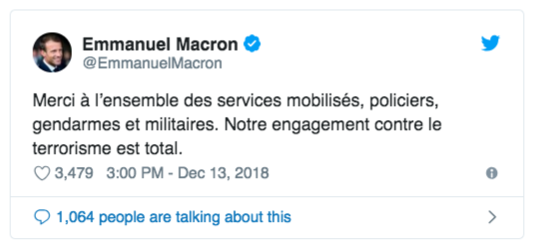 Chekatt was the main suspect in France's counterterrorism unit's investigation opened following the shooting Tuesday night. He is believed to have killed three people and wounded 13 others.
According to the Associated Press, "Five people have been arrested in connection with the investigation, including Chekatt's parents and two of his brothers. The Paris prosecutor's office said the fifth, who was arrested Thursday, was a member of Chekatt's 'entourage' but not a family member."
Chekatt was known to authorities as a "security threat" and was on a terror watch list.
He was reportedly radicalized while spending time behind bars in France, Germany, and Switzerland.
ISIS has laid claim to the Tuesday night attack.
"Islamic State claimed him as one of its soldiers on Thursday, who 'carried out the operation in response to calls for targeting citizens of coalition countries' fighting the militant group, according to a statement on its Amaq news website," reports Reuters. "The group provided no evidence for the claim."