It's like people on the far-left never get sick of putting their feet in their mouths. We constantly get bombarded with "truths" those on the left are so sure of…aaaaand then they get owned with the actual truth.
This week's overconfident lefty? Democratic Minnesota Attorney General Keith Ellison.
Ellison took to Twitter on Wednesday to defend supporters of Democratic Socialist presidential candidate Sen. Bernie Sanders (I-Vt.), who Ellison says he's "never seen..being unusually mean or rude."
The former U.S. congressman from Minnesota also made a plea for "someone" to send him "an example of a 'Bernie Bro' being bad.
Check out Ellison's tweet below: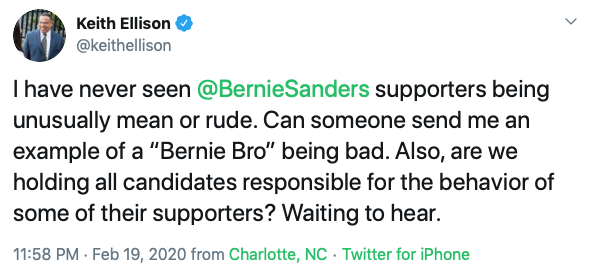 While the "Twitterverse" brought up multiple examples of the poor behavior of some Sanders supporters, the best response came on Thursday from someone who has felt firsthand the wrath of a supposed Sanders supporter.
Take a look: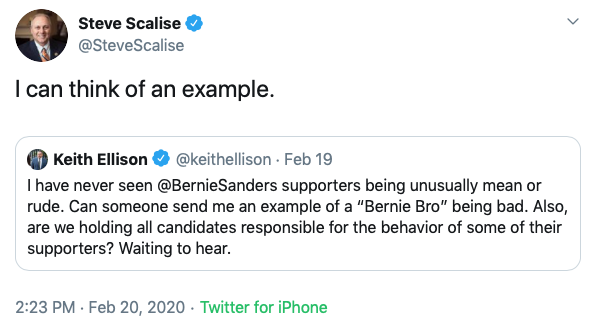 Checkmate.
According to the Daily Caller:
Scalise was shot in 2017 by left-wing activist James T. Hodgkinson during practice for a Congressional baseball game. Hodgkinson was a staunch supporter of Sanders, and a volunteer on his 2016 presidential campaign.

After news broke of Hodgkinson's support for Sanders, the senator disavowed Hodgkinson, calling his actions "despicable," and saying that "violence of any kind is unacceptable in our society."
It's all well and good that Sanders condemned Hodgkinson's actions. But, whether they're supporters of Sanders or just far-left zealots like those in the violent communist group Antifa, violence and harassment seems to be the modus operandi against people far-leftists disagree with.