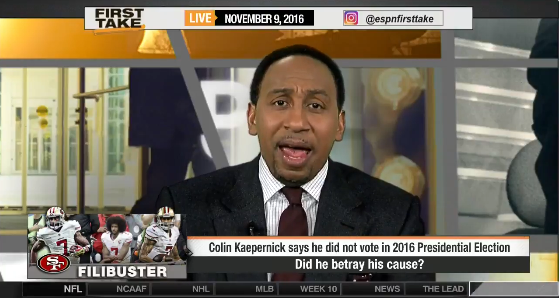 San Francisco 49ers quarterback Colin Kaepernick—relevant for his national anthem protest against police brutality—recently made the news again for telling reporters he had no intention of voting in the 2016 presidential election.
ESPN First Take's Stephen A. Smith, an outspoken journalist and TV personality, had quite a bit to say about Kaepernick's decision on Wednesday in what may be his most vicious tirade yet.
"He absolutely betrayed his cause," Smith began. "As far as I'm concerned, Colin Kaepernick is absolutely irrelevant. I don't want to see him again. I don't want to hear from him again. I don't want to hear a damn word about anything he has to say about our nation...he comes across as a flaming hypocrite, as far as I'm concerned."
And that was just the beginning, as Smith only got more heated.
Watch the fiery speech below:
Thank you for supporting MRCTV! As a tax-deductible, charitable organization, we rely on the support of our readers to keep us running! Straight from Founder and President, Brent Bozell, please read the MRC request for support here to see how you can join the movement!