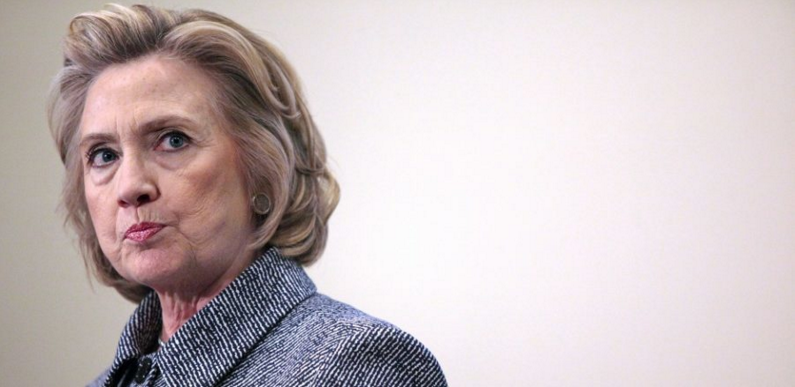 (Image via Twitter)
A State Department audit found former Secretary of State Hillary Clinton at fault for her use of a private email account and server while in office.
The Associated Press obtained a copy of the report Wednesday morning.
"The 78-page analysis, a copy of which was obtained by The Associated Press, says Clinton ignored clear directives," reports AP. "She never sought approval to conduct government business over private email, and never demonstrated the server or the Blackberry she used while in office 'met minimum information security requirements.'
"Twice in 2010, information management staff at the State Department raised concerns that Clinton's email practices failed to meet federal records-keeping requirements. The staff's director responded that Clinton's personal email system had been reviewed and approved by legal staff, 'and that the matter was not to be discussed any further.'"
According to AP, the audit found "no evidence of a legal staff review or approval" of Clinton's use of a private email account or server. 
The report examined the past five secretaries of state including Clinton, finding them "slow to recognize and to manage effectively the legal requirements and cybersecurity risks associated with electronic data communications."
The State Department is expected to discuss the audit Wednesday afternoon during its daily press briefing. 
MRCTV Reader,
The liberal media are terrified of the truth, especially when it leads to uncomfortable questions about their own leftist worldview.
MRCTV is the multimedia division of MRC featuring original content and aggregated videos of the news, people, and events conservatives care about.
MRCTV relies on the support of our loyal readers (and video viewers) to keep providing the news and commentary that matter to the American people, not just stories that prop up the liberal agenda.
Make a donation today. Just $15 a month would make a tremendous impact and enable us to keeping shining the light where the liberal media are afraid to tread.
— The MRCTV Team
DONATE
Connect
Sign up for our MRCTV newsletter to receive the latest news.
Sponsored Links