"The Squad," who have appeared to be a favorite group for leftists, have now officially experienced the backlash that comes from supporting an "old white guy" for president. 
Democratic Congresswomen Alexandria Ocasio-Cortez, Ilhan Omar, and Rashida Tlaib have all endorsed Sen. Bernie Sanders (I-Vt.) for president, and the Democratic representative from Minnesota was happy to tweet about it.
"Proud to endorse [Sen. Sanders] for President, glad that [AOC] and [Rashida Tlaib] are on board too. It's time," Omar posted to Twitter.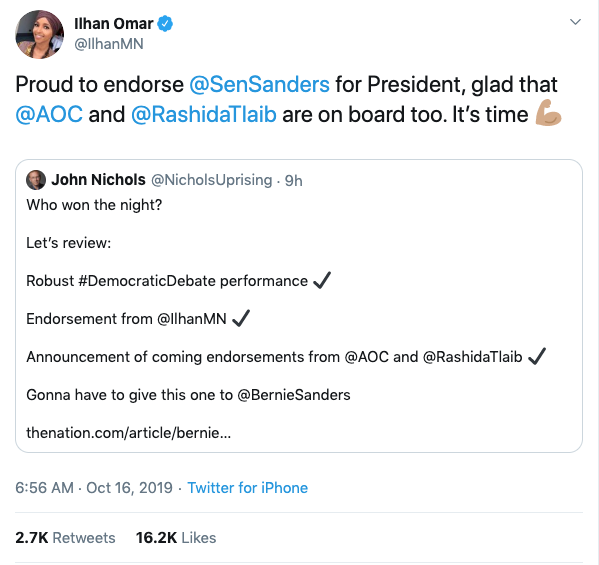 But a lot of Ilhan supporters expressed their disgust with her endorsement, saying that she chose an "old white guy" over putting a woman in the White House.
Omar's defense? Defeat Trump at all costs.
"Bernie is leading a working class movement to defeat Donald Trump that transcends generation, ethnicity, and geography," Omar said in a statement, according to NPR. "That is why he is fighting to cancel all student debt. That is why he is fighting to make all school meals universal. That is why he is fighting for a humane immigration policy that treats immigrants as human beings and not criminals. And it's why Bernie is fighting to end our forever wars and truly prioritize human rights in our foreign policy — no matter who violates them. And it's why I believe Bernie Sanders is the best candidate to take on Donald Trump in 2020."
Here are some responses on The Squad's "hypocritical" decision to endorse the Independent from Vermont: