On June 15, 2020, the New York Police Department Commissioner Dermot F. Shea announced the immediate disbanding of the department's anti-crime unit. The following week, shooting incidents were a staggering 342% higher compared to the same week in 2019, and shooting victims were 414% higher citywide.
The N.Y.P.D.'s anti-crime unit, an elite unit of 600 plain-clothed officers who patrolled the streets of New York, had a simple and straightforward task: getting guns and drugs off the streets. This was a unit often praised for their impressive results. Officers who were assigned to the unit often used it as a stepping stone for a promotion to the Detective Bureau. 
This was also a unit which carried a lot of controversy, most recently the death of Eric Garner in 2014.
Critics of the controversial unit celebrated its dissolution, but they may not celebrate the effects of its absence.
"Make no mistake," Shea said at the original announcement, "this is a seismic shift in the culture of how the N.Y.P.D. polices this great city. It will be felt immediately in the communities that we protect."
This proved true as the following week, shooting crimes skyrocketed citywide. 
New York City saw a 414% increase in victims of shootings compared to this same week in 2019, and a 342% increase in shooting incidents.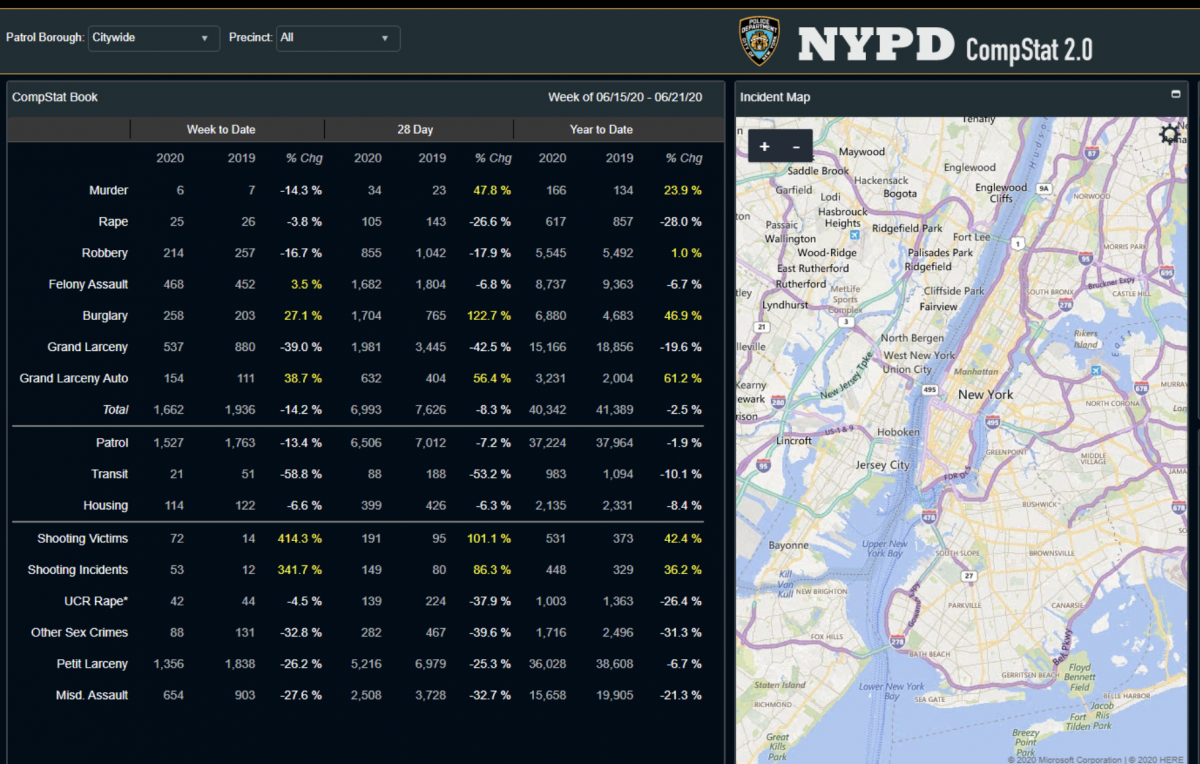 From the beginning of the year until June 21, the city saw a 42% increase in shooting victims and a 35% increase in shooting incidents compared to this time in 2019. This means that the several hundreds-percent increase in gun related crimes over the last few weeks has been a drastic outlier to the usual gun related crimes in the city.  
Two weeks after the disbanding of the anti-crime unit, the Commander in Chief of the Bronx's 46th precinct, Deputy Inspector Richard Brea, left the precinct and the N.Y.P.D. police force, citing a lack of guidance from higher-ups on how to deal with guns and drugs in the neighborhood without the anti-crime unit. 
On his last day at the precinct, Brea got the walkout ceremony of a hero, with a helicopter flyover, multiple standing ovations from members of his and neighboring precincts, and the N.Y.P.D. bagpipers. All fitting for a veteran police officer of 27 years.
Here is the retirement walkout of Deputy Inspector Brea who stood up to the NYPD & feckless Mayor. I believe the video speaks for itself on how this mans leadership is endeared by the Rank & File. Hopefully more leaders follow suit in light of the destruction of policing. pic.twitter.com/UGOtF3N42C

— Rob O'Donnell (@odonnell_r) June 26, 2020