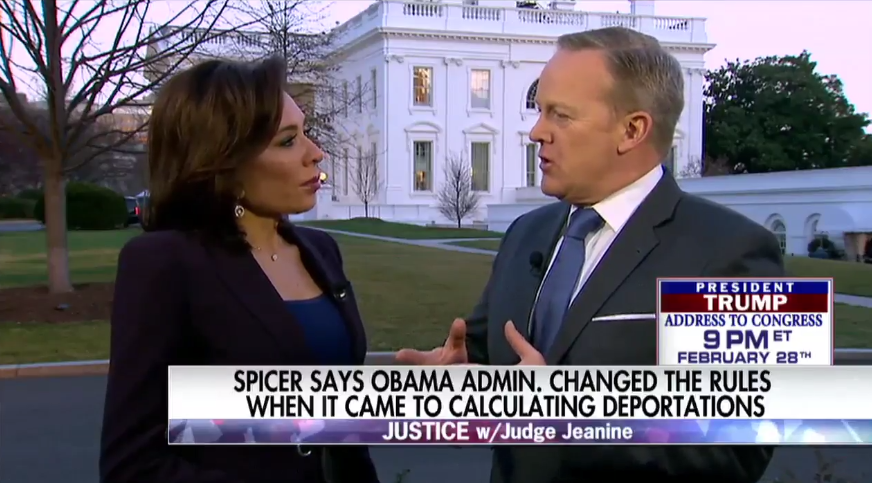 (Image via Screenshot)
White House press secretary Sean Spicer in an interview with Fox News' Judge Jeanine over the weekend discussed the newly expanded power of federal immigration officials to deport illegal aliens.  
He said that under the Obama administration, Immigration and Customs Enforcement (ICE) agents "had their hands tied."
Now, with the new Department of Homeland Security (DHS) guidelines that expand the definition of which illegal immigrants can be targeted and deported, ICE has the ability to deport any illegal alien who's been convicted or even charged with committing a crime.
"Under the Obama administration, ICE had their hands tied," said Spicer.
"This President recognized in the interest, not only in the interest of our national security but our economic security, that we are gonna untie the hands of our ICE and Custom and Border Patrol officers who are there everyday trying to control the border and enforce the mission that they sought to do," he went on. "[Trump's] letting them do their job."
Many in the media criticized the Trump administration following the recent immigration raids in February, accusing federal immigration officials of indiscriminately rounding up people and tearing families apart.  
Spicer said that Trump is focused on illegal immigrants "who pose a threat to our public safety and way of life or have a criminal record."
"[They] would be first and foremost the ones on his list to be deported," he said.  
On how President Obama deported more people than any other president before him, Spicer said that the numbers are misleading.
He explained that under Obama, ICE used "a different set of accounting," including in its deportation statistics not only formal "removals" from within the U.S. but also "returns," or people caught and turned around at the U.S.-Mexico border.
"They changed the way in which they counted deportation," said Spicer. "You didn't even have to come over the border to be counted as being deported if you tried to enter the country."
Even without "returns," Obama "deported more illegal immigrants during his tenure than the sum of all deportations throughout the 20th century," reported The National Review, so Trump's deportation policy should come as no surprise to the media or to illegal aliens long dealing with the fear that ICE might come knocking at their door. 
Thank you for supporting MRCTV! As a tax-deductible, charitable organization, we rely on the support of our readers to keep us running! Keep MRCTV going with your gift here!