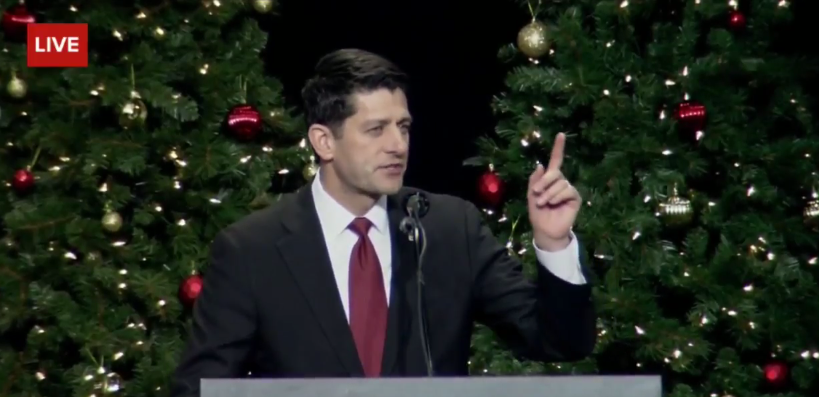 (Image via Screenshot)
House Speaker Paul Ryan (R-Wisc.) made an appearance at President-elect Donald Trump's "Thank You" tour rally in West Allis, Wisc., Tuesday night.
He thanked Trump and Vice President-elect Mike Pence for their work during the 2016 presidential campaign that helped turn previously blue states in the Midwest red. 
"It was before I had my driver's license the last time Wisconsin went Republican," said Ryan. "This is amazing."
"I want to thank Donald Trump; I want to thank Mike Pence, for helping Wisconsin, Michigan, Pennsylvania, the Midwest finally see the light of day and put a Republican back in the White House," he said.
The House Speaker often clashed with Trump during his primary and presidential campaigns, whether it be over Trump's proposed travel ban on Muslims entering the U.S., mass deportation of undocumented immigrants, or plan to build a wall along the entire Mexican border.
Ryan now seems hopeful that he and the President-elect can work together to put forward a conservative agenda in the coming years. 
He told rally attendees that he is "so thankful" that Washington will have "four years of unified, Republican government" under the incoming Trump administration.
"We've got so much work to do," said Ryan. "The last eight years with Barack Obama have been years of divided government. And that is why we are so excited to have four years of unified, Republican government…"
"That's why we're here. That's why we're so thankful!" he shouted. 
Trump reciprocrated the kind words during his remarks, saying he has "come to appreciate" Ryan during his transition efforts. 
"I have come to appreciate him," said Trump. "He's terrific."
"And, you know, honestly, he's like a fine wine," he added, in response to booing from the crowd. "Everyday that goes by, I get to appreciate his genius more and more."
Check out video of the rally below.