What should have been 24 hours of internet outrage over a marketing faux pas turned into destructive protests in South Africa, as supporters of the Economic Freedom Fighters party trashed H&M stores across the country over the retailer's "monkey" shirt.
As MRCTV previously reported, H&M issued an apology for their advertisement that showed a black child modeling a shirt with the phrase "coolest monkey in the jungle." Even though H&M issued an apology, and even though the mother of the child in the photo called for people to "stop crying Wolf" over racism, EFF decided to lash out at H&M by destroying their stores.
Footage on social media shows protesters destroying the stores at various locations across South Africa:
In response to the protests, H&M closed all of its stores in South Africa.
The protests came after H&M issued another apology for the sweatshirt, writing, "We're deeply sorry that the picture was taken, and we also regret the actual print. Therefore, we've not only removed the image from our channels, but also the garment from our product offerings."
H&M also wrote they will "investigate why this happened to prevent this type of mistake from happening again."
Addressing the South African protests on Twitter, H&M wrote that they want everyone to know their South African staff had nothing to do with the products and therefore, they shouldn't be targeted:
H&M also changed their Twitter bio to one that references the "monkey" sweatshirt uproar and provides an "unequivocal apology" for the product… days before the South African protests:
To all customers, staff, media, stakeholders, partners, suppliers, friends and critics. We would like to put on record our position in relation to the image and promotion of a children's sweater, and the ensuing response and criticism. Our position is simple and unequivocal – we have got this wrong and we are deeply sorry.
The H&M website main pages for South Africa, the United States, and English-speaking Canada all currently display this message: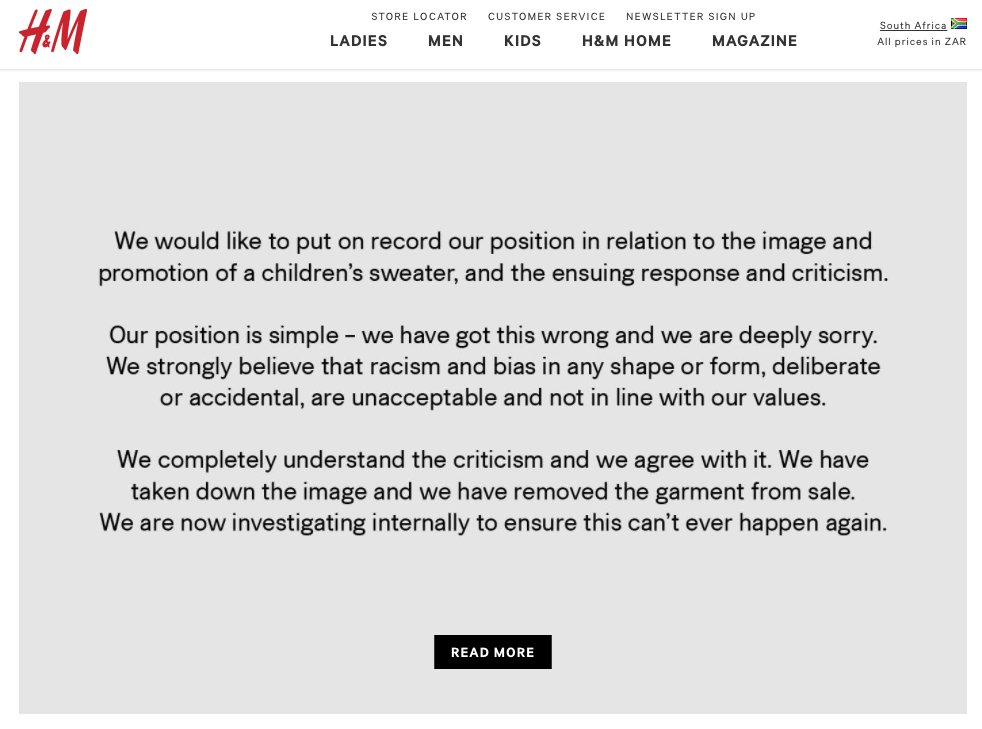 When trying to make amends with people who are perpetually offended, it's never enough.