In a 5-4 decision Thursday morning, the Supreme Court blocked the Trump administration from ending the Deferred Action for Childhood Arrivals program, or DACA, with Chief Justice John Roberts joining the liberals of the court in the majority decision.
Among the justices in the majority was Obama-appointed Justice Sonia Sotomayor, who is being celebrated by Twitter leftists for "affirm[ing] that Trump's intent with DACA was motivated by bigotry."
It's quite disappointing that Justice Sotomayor was the only one to affirm that Trump's intent with DACA was motivated by bigotry. It clearly was, and I'm sad that Ginsburg, Breyer, and Kagan failed to concur in her opinion. https://t.co/0ug5rLzoPx

— Charlotte Clymer 🏳️‍🌈 (@cmclymer) June 18, 2020
Keep in mind, the Supreme Court is supposed to refrain from making inherently political statements. 
In her opinion, Sotomayor claimed that Trump's comments on comparing undocumented immigrants to "animals" who are responsible for "the drugs, the gangs, the cartels, the crisis of smuggling and trafficking, and MS-13" provides "respondents with grounds to litigate their equal protection claims further."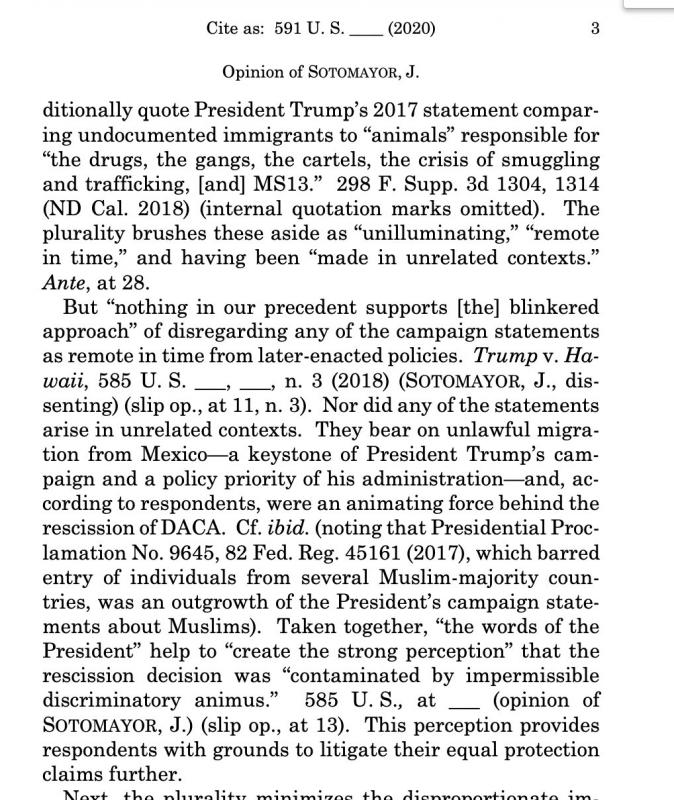 Sotomayor adds that "Taken together, 'the words of the President' help to 'create the strong perception' that the rescission decision was 'contaminated by impermissible discriminatory animus'."
Essentially, Sotomayor claims that Trump's rhetoric on illegal immigration is enough to rule against Trump's attempt to roll back DACA.
By contrast, conservative judges in the past have been criticized for displaying such partisanship. However, it seems that liberal justices are not being held to the same standard as Twitter leftists celebrate Sotomayor's openly partisan position in her opinion.

(Cover Photo: Gage Skidmore)