There was a time when Saturday Night Live was funny and original. That time has long passed.
Case in point: last Saturday's SNL news parody "Weekend Update" mocked President Trump's Twitter war with Puerto Rico's San Juan Mayor Carmen Yulin Cruz, who slammed the administration for allegedly refusing to help Puerto Ricans devastated by a series of recent storms.
Co-host of "Weekend Update" Michael Che decided to put on his fake tough guy pants and call Trump a "bitch" and a "cheap cracker."
Here is video of Che's comments:
Che's comments were in response to this tweet sent out by Trump on Saturday: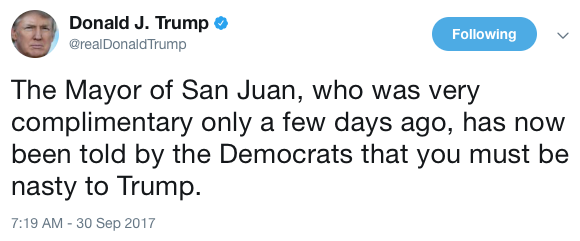 Che followed up his comments, which were made in the comfort of those that are sympathetic to that kind of rhetoric, with a super racist statement that pushed the bounds of actual comedy.
"You just did this very same thing for white people, twice," Che said referring to Hurricane Harvey and Hurricane Irma. "Go tell Melania [Trump] to put on her flood heels, get some bottled water, some food, pack up some Atlanta Falcons Super Bowl t-shirts and write them a check with our money, you cheap cracker!"
Unfortunately for Che, and the SNL writers who most likely wrote the "joke," the insinuation that the federal government only aid white people in their assistance to Houston after Hurricane Harvey falls flat when you look at the racial breakdown of Houston. According to 2010 Census data, white people only comprise 25.6 percent of the population of Houston.
As for Trump being cheap, SNL conveniently ignored the $1 million of his own money the president recently donated to hurricane relief efforts.