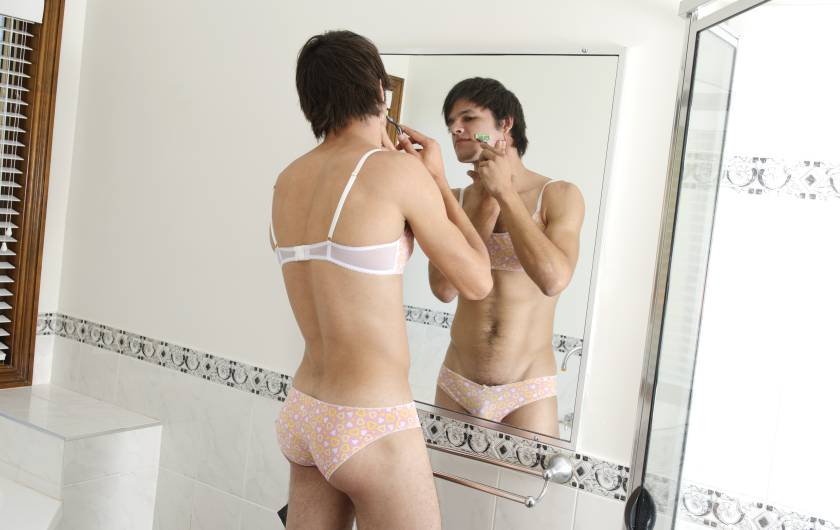 If you are one of those men who is jealous that it's socially acceptable for women to wear lingerie, while you're stuck with boring old boxers or tighty-whiteys, well, have we got some good news for you!
The Australian underwear company, HommeMystere, is now offering a line of lacy undergarments for the man who wants to feel a little bit prettier while engaging in his daily manly activities.  Because, why should women get to have all the fun?
The company is now offering a new line of bras, panties and g-strings for men.  According to the HommeMystere website, they have done the research and the time has come for undergarment equality.
"A growing number of guys are discovering the comfort of lightweight lingerie style underwear!"
I suppose we'll have to take their word for it.
But, HommeMystere seems convinced that there is a market out there for men who simply aren't happy with having to live in a world where they have difficulty finding bras that fit due to anti-male discriminatory practices from companies like Victoria's Secret that only carry women's sizes. 
HommeMystere understand that you want quality undergarments made with care, attention to detail, and fits the male body perfectly. Comfortable men's panties that really do fit, f eel great and look sensational! 
Why would a man want to wear underwear modeled after women's lingerie?  
Well, in a recent interview with Huffington Post, the company's founder, Brent Krause, explained why he developed his new line of male specific intimates.
"I think bras are just something they like the feel of," he said. "I don't know whether it's the tightness around the chest or what it is, but it's definitely the feeling that they're after."
While it is not completely unfathomable that a certain subset of the male community might enjoy walking around in women's underwear, HommeMystery's website makes it very clear that these panties are being marketed to all groups regardless of sexual preference or gender identity.
"We provide our lingerie for guys. We are not concerned if you are gay, straight, vegetarian, republican, anglican, martian or any other persuasion. We just design and manufacture attractive luxury underwear for men."
At least HommeMystere will have cornered the market in the unlikely event that life is discovered on Mars. It is truly an exciting time to be alive.