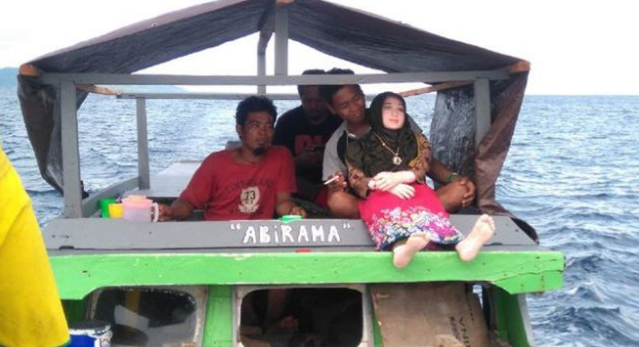 (Image: AFP/Indonesian Police)
We seriously cannot make this stuff up.
Police in Indonesia have confiscated an inflatable sex toy from a small island village after rumors spread that it was being worshipped as an angel.
According to the BBC, the doll was found by a local fisherman in the Banggai islands, which rest in the Sulawesi province. The fisherman found the doll in the water, brought it home, dressed it in a hijab and his family took care of it.
Once pictures spread of the family with the supposed deity, authorities investigated due to the fear that rumors of the "angel" would cause unrest among the villagers.
However in the end, police figured out that the "angel" was indeed nothing more than an inflatable sex doll.
The BBC reported:
Rumours then began to spread that it was a "bidadari" along with unverified stories about how it was found "stranded and crying," prompting the police investigation.

Many across Indonesia continue to hold strong beliefs in the supernatural, including the existence of "bidadari", which is a type of angel or spirit.
Unfortunately for these islanders, it looks like this particular superstition blew up in their faces.