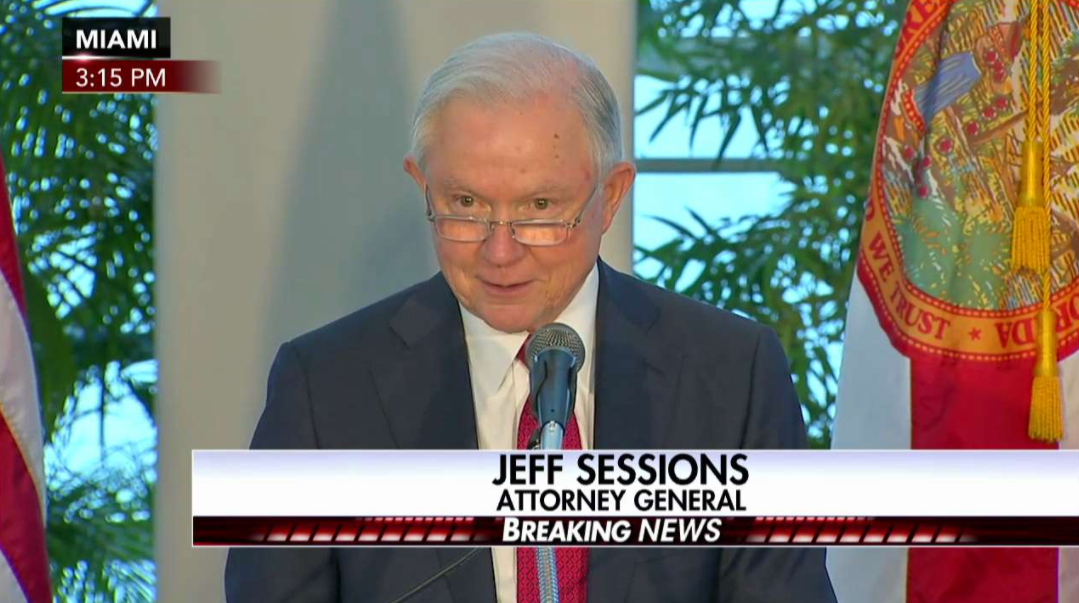 (Image via Twitter)
Attorney General Jeff Sessions on Wednesday criticized Chicago for its sanctuary city policy while speaking to law enforcement in Miami-Dade, Fla.
He praised Miami-Dade for reversing its county policy of giving "sanctuary" to illegal immigrants and announced that the county was now eligible for a federal police grant for about $480,000 as a result of its compliance with federal immigration officials.  
"This is good news for law enforcement and for the citizens of Miami-Dade," said Sessions. "It means more money for crime fighting. It means we are partners together in keeping everyone safe."
"Unfortunately, we have areas in the country that aren't doing so well," he went on. "Chicago, that just sued us a couple days ago, is not following this example."
After citing crime and murder statistics from the Chicago Police Department, Sessions said that in Chicago, "respect for the rule of law has broken down."
"In Chicago, the so-called sanctuary policy is one sad example of that," he argued.  
Sessions said that Chicago has made safety a political issue, when it is the duty of the government to provide for the safety of its people.
"Every year, too many American lives are victimized as a result of sanctuary city policies – whether it be theft, robbery, drugs, assault battery, even murder," he said.
The attorney general called on Chicago and other sanctuary cities to follow Miami-Dade's example.
His remarks come after Miami-Dade formally dropped its county's status as a "sanctuary" for illegal immigrants in February. The county's commissioners voted 9-3 to uphold an order from Mayor Carlos Gimenez to drop the policy and cooperate with federal immigration officials.
Meanwhile, Chicago mayor Rahm Emanuel is suing the Department of Justice for making cities that interfere with federal immigration enforcement ineligible for certain grants.
Session criticized Emanuel for demonstrating "an open hostility to enforcing laws designed to protect law enforcement … and reduce crime."
He cited Chicago's high murder rate and said the city's leaders "cannot follow some laws and ignore others and reasonably expect this horrific situation to improve."
Thank you for supporting MRCTV! As a tax-deductible, charitable organization, we rely on the support of our readers to keep us running! Keep MRCTV going with your gift here!