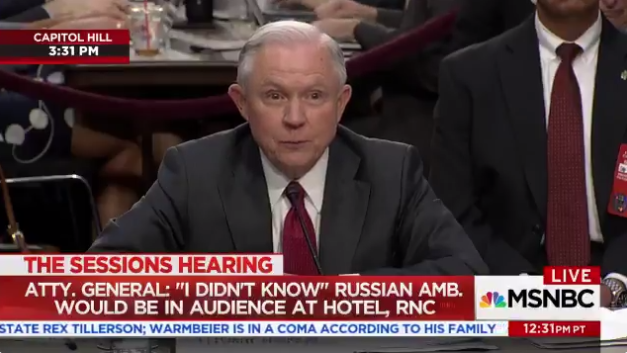 Attorney General Jeff Sessions on Tuesday responded to fired FBI Director James Comey's testimony that he had "implored" him "to prevent any future direct communication between the President and me."
Testifying publicly before the Senate Intelligence Committee, Sessions confirmed that Comey expressed to him "concern about proper communications protocol with the White House and with the President."
He said he responded "by agreeing that the FBI and the Department of Justice needed to be careful to follow department policies regarding appropriate contacts with the White House."
"I was confident that he understood," said Sessions in his opening remarks.
He did not, however, confirm that Comey asked him directly to prevent future communications between he and the President, nor was he aware of the details of Comey's private conversation with Mr. Trump.
When asked if he felt uncomfortable about leaving Comey alone with the President in the Oval Office on Feb. 14, the meeting which Comey alleged Trump had asked him to "let go" of the Bureau's investigation of former national security adviser Michael Flynn, Sessions recounted what happened:
"I did depart," he said. "I believe everyone else did depart, and Director Comey was sitting in front of the President's desk and they were talking.
"I believe it was the next day that he said something, expressed concern about being left alone with the President. That in itself is not problematic," Sessions argued. "He did not tell me at that time did not tell me any details about anything that was said that was improper. I affirmed his concern that we should be following the proper guidelines of the Department of Justice and basically backed him up in his concerns, and that he should not carry on any conversation with the President or anyone else about an investigation in a way that was not proper."
Thank you for supporting MRCTV! As a tax-deductible, charitable organization, we rely on the support of our readers to keep us running! Keep MRCTV going with your gift here!