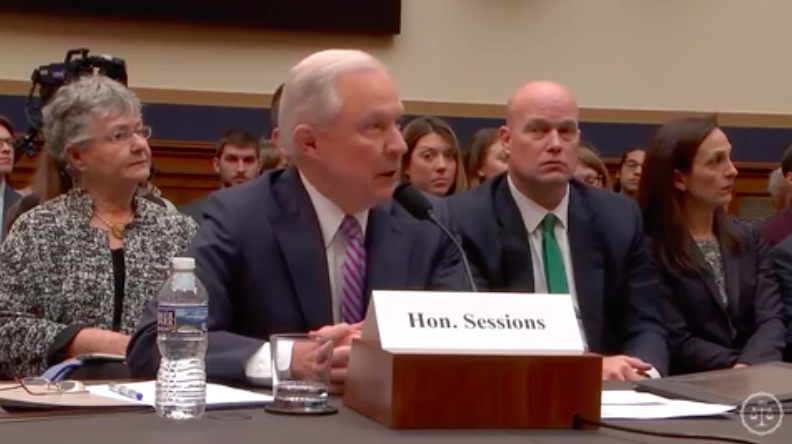 Image via Screenshot
Attorney General Jeff Sessions at a Tuesday House Judiciary Committee meeting pushed back against calls for the appointment of a special counsel to investigate former Democratic presidential nominee Hillary Clinton.
Sessions in a heated exchange with Rep. Jim Jordan (R-Ohio) said that naming special counsel would require "a factual basis."
"We will use the proper standards and that's the only thing I can tell you, Mr. Jordan," Sessions said. "You can have your idea but sometimes we have to study what the facts are and to evaluate whether it meets the standards it requires."
Jordan pressed Sessions, arguing that naming a special counsel is warranted in light of recent revelations about the so-called "Trump dossier" that alleged connections between President Trump and Russia and collusion between Russia and his campaign.
"We know one fact. We know the Clinton campaign and the Democratic National Committee paid for the dossier," he said.

"And it sure looks like the FBI was paying the author of that document and it sure looks like a major political party was working with the federal government to then turn an opposition research document — the equivalent of some National Enquirer story — into an intelligence document to take that to the FISA Court so they could then get a warrant to spy on President Trump's campaign," Jordan went on.

"That's what it looks like and I'm asking you, in addition to all the things we know about James Comey in 2016, doesn't that warrant naming a second special counsel?" he asked.
Sessions seemed to try to shift the focus but when pressed again he eventually said, "I would say 'looks like' is not enough basis to appoint a special counsel."
While he pushed back against Jordan, Sessions didn't quite shut the door on the possibility of the Justice Department launching a special counsel investigation into Clinton.
Sessions' testimony comes a day after a report revealed that Sessions had authorized senior prosecutors at the Department of Justice to evaluate a special counsel investigation into Clinton for a variety of matters, including the FBI's probe into Clinton's private email server, Clinton Foundation donations, and the sale of American uranium mines to a Russian company while Clinton was serving as Obama's secretary of state.
The attorney general confirmed on Tuesday that the DOJ is looking into whether special counsel is necessary. 
Check out the fiery exchange below.
Thank you for supporting MRCTV! As a tax-deductible, charitable organization, we rely on the support of our readers to keep us running! Keep MRCTV going with your gift here!