Sesame Street is pushing back on a former show writer's viral claim that Bert and Ernie, two of the show's signature puppets, are gay.
Mark Saltzman, who wrote for Sesame Street starting in 1984 and is gay himself, made waves this week for claiming that he did, in fact, write the characters to be homosexual and based then off his own relationship.
"I remember one time a preschooler [in San Francisco] turned to her mum and asked, 'are Bert and Ernie lovers?' and that, coming from a preschooler, was fun," he said.
"That got passed around, and everyone had their chuckle and went back to it. And I always felt that without a huge agenda, when I was writing Bert and Ernie, they were [gay]. I didn't have any other way to contextualise them."
But Sesame Street denied Saltzman's claim in a tweet Tuesday, maintaining their earlier claims that the famous puppets, who shared an apartment on the show, were written simply as best friends and, as puppets, have no sexual orientation.
"As we have always said, Bert and Ernie are best friends," the children's program said in a statement. "They were created to teach preschoolers that people can be good friends with those who are very different from them. Even though they are identified as male characters and possess many human traits and characteristics…they remain puppets, and do not have a sexual orientation."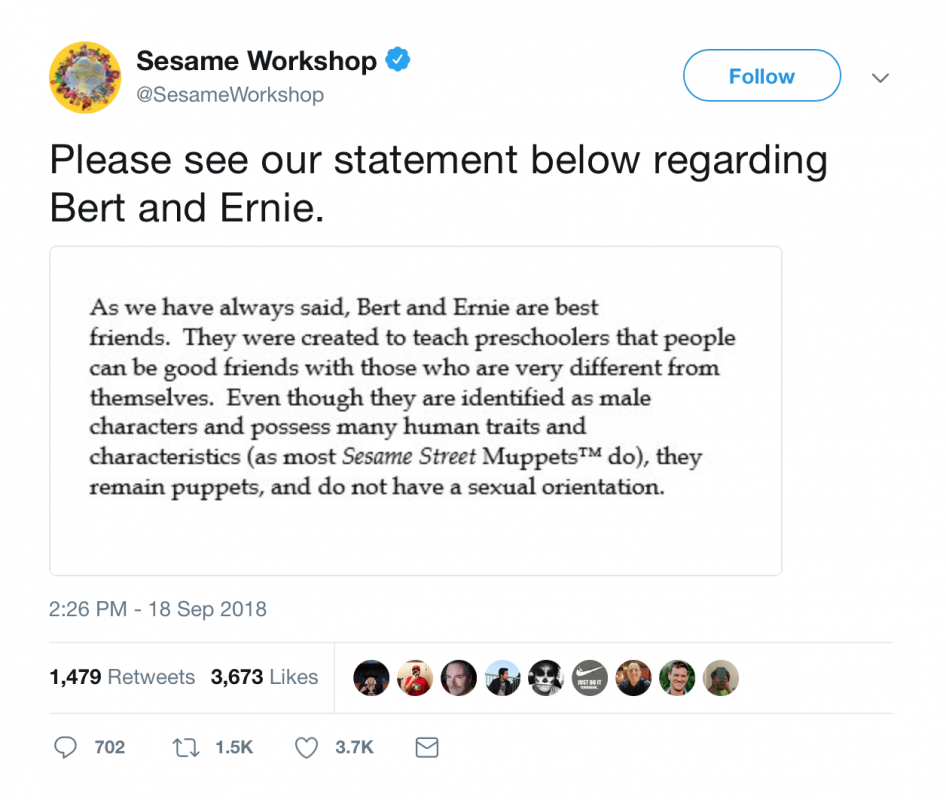 While it's nice that the show stepped in to once again clear up a popular rumor about its beloved characters, the fact that anyone's debating the preferred sexual preference of a pair of stuffed dolls is…well, actually pretty sad.
Sponsored Links