In his rebuttal address to President Joe Biden's radically socialist agenda, South Carolina Republican Senator Tim Scott, a black man whose father grew up picking cotton, declared that America is not, as Democrats like to say, a "racist nation."
And leftists immediately set out to prove him wrong.
Shortly after Scott delivered his powerful rebuke of Biden's race-baiting address, "#UncleTim" began trending on Twitter as liberals accused the black Senator of betraying his race. Here are just a few of the most racist tweets leftists blasted out against Scott.

Political and "LGBTQ news contributor" Scott Nevins, a white dude, saying Scott was "Uncle Tom'ing it up" in his address in a now-deleted tweet.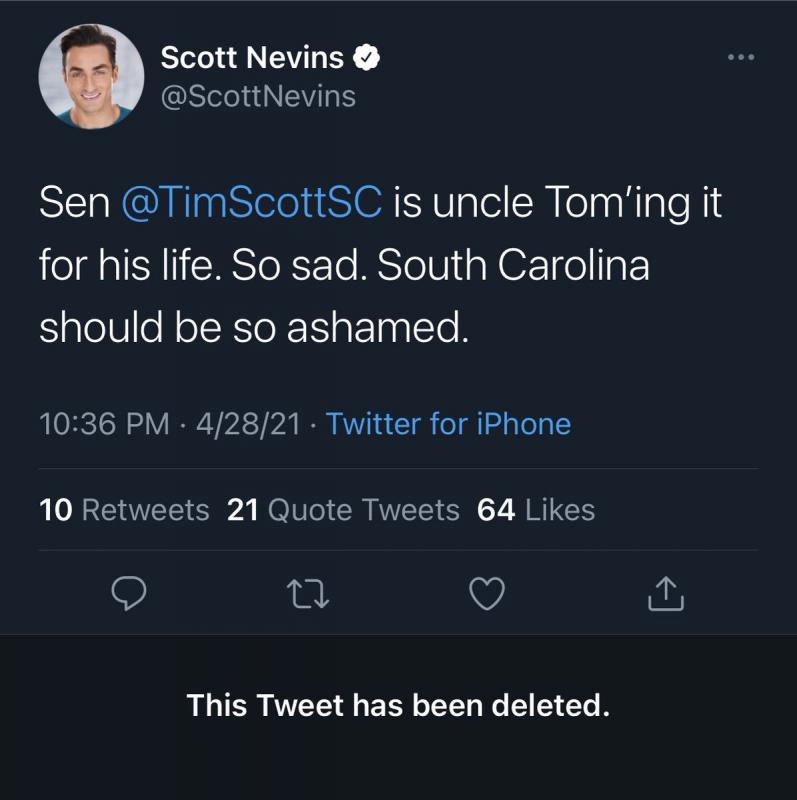 This racist chick using a racist reference to a "coon" to mock Scott.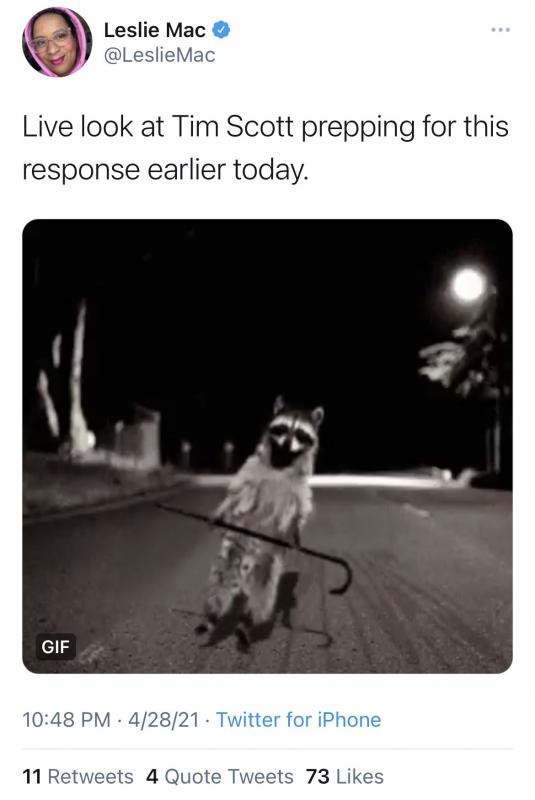 "Bishop" Talbert Swan accusing Scott of "sycophantic bootlicking."
 
Uncle Tim Scott has perfected the art of sycophantic bootlicking. He's a master step n fetch it artist and cunning white supremacy apologist, who demonstrated his buck dancing skills in front of the entire world.

"Hear me clearly, America is not a racist country"

- @TimScottSC pic.twitter.com/C7fgye7tcU

— Bishop Talbert Swan (@TalbertSwan) April 29, 2021

Contributor Exavier Pope saying that Scott "does not represent Black people" because he doesn't subscribe to left-wing groupthink.
 
Tim Scott does not represent Black people.

Tim Scott represents a "if you can't beat em, join em" ages old trope of Black person that bows down gleefully to white supremacy for self interest while eschewing the plight for a cultural shift inclusive of all Black Americans

— 𝐄𝐱𝐚𝐯𝐢𝐞𝐫 𝐏𝐨𝐩𝐞 (@exavierpope) April 29, 2021

This congressional candidate saying Scott has "Stockholm Syndrome."

If you don't know what "Stockholm Syndrome" is, Senator Tim Scott will demonstrate.
👇👇👇👇 https://t.co/7KvjWGmlBp

— Mark Judson For Congress - Scorched Earth Dem 2022 (@Judson4Congress) April 29, 2021

Activist Bree Newsome saying it's not racist to call Scott "Uncle Tim."
 
How can calling Tim Scott "Uncle Tim" be racist when he just told everyone this isn't a racist country? 🙂🇺🇸

— DEFUND & ABOLISH POLICE, REFUND OUR COMMUNITIES (@BreeNewsome) April 29, 2021

Perhaps it's worth considering that America itself isn't racist - but leftists sure are.