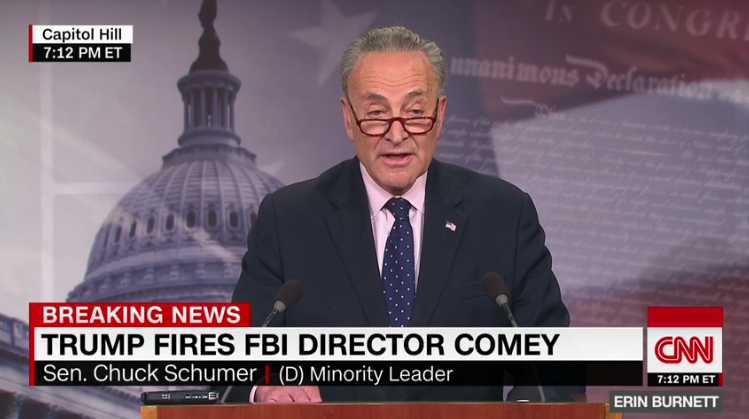 After the news made headlines that President Trump fired FBI Director James Comey on Tuesday, Sen. Chuck Schumer (D-N.Y.) held a press conference, calling the decision a "big mistake" and alleging the decision to dismiss Comey was "part of a cover up."
The New York senator questioned the President's timing, saying that Trump could have fired Comey when he first took office if he disapproved of the way the director handled the bureau's investigation of Clinton's emails. He asked why Trump would fire him now that Comey was in charge of an investigation said to involve him and his associates.
Trump had praised Comey before, saying "it took guts" for him to reopen the bureau's investigation into Clinton's emails less than two weeks ahead of Election Day.
Schumer called on Deputy Attorney General Rod Rosenstein to appoint an independent special prosecutor to look into Russia's interference in the election and allegations of collusion between Russia and the Trump campaign.
"This does not seem to be a coincidence," said Schumer. "This investigation must be run as far away as possible from this White House … [and] anyone that President Trump has appointed."
"The only way the American people can have faith in this investigation is for it to be led by a fearless, independent special prosecutor," he continued. 
Schumer even went so far as to suggest that Mr. Trump's decision to fire Comey was "part of a cover up." 
"If Deputy Attorney General Rosenstein does not apooint an independent special prosecutor, every American will rightly suspect that the decision to fire Director Comey was part of a cover up," he said. 
President Trump has denied any collusion between his campaign and Russia and has called the bureau's investigation into such allegations "a total hoax." 
After Monday's congressional hearing on Russia's intereference in the 2016 election, where former acting Attorney General Sally Yates and former Director of National Intelligence James Clapper testified, Trump tweeted, "Director Clapper reiterated what everybody, including the fake media already knows - there is 'no evidence' of collusion w/ Russia and Trump."