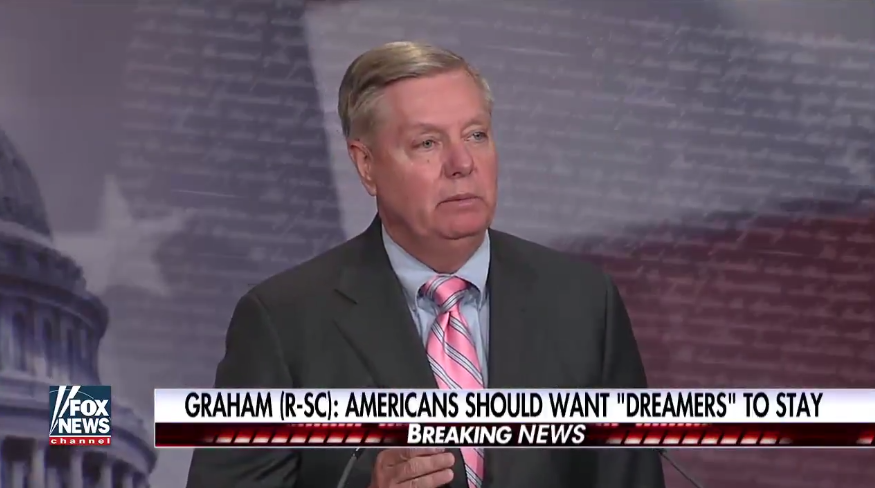 Image via Screenshot
Senators Lindsey Graham (R-S.C.) and Dick Durbin (D-Ill.) in a press conference on Tuesday announced a bipartisan effort to help "dreamers" enrolled in the Deferred Action for Childhood Arrivals (DACA) immigration program.
The senators plan to introduce the "DREAM Act" to Congress which would grant the over 800,000 illegal immigrants or "dreamers" enrolled in DACA legal status.
"You have done nothing wrong," said Sen. Graham to DACA recipients. "You came here as children, you've contributed to society, you have passed criminal background checks, you have demonstrated your ability to be beneficial to the country now and in the future."
He praised President Trump for his decision to rescind the program enacted via executive order under the Obama administration in 2012.
"As to the president, I think he was right to terminate DACA," said Graham. "I believe from day one it was an unconstitutional overreach by President Obama. He had a dilemma on his hands … But the main thing I've tried to do is make sure that 20 years from now, we don't have 11 million more illegal immigrants. Fix it, once and for all.
"I think the president did the country a service by going back to constitutional order in a way that allows a six month opportunity for the Congress to take care of these kids," he went on. "So the president was right on the law, but he was also right to give us six months to figure out a solution to this."
He called on President Trump to help Congress "try to find a consensus here."
"Help us," he said. "Help us in the House. Help us in the Senate. I think you're a good man. Get involved personally… Try to find a consensus here."
"You have the chance to show the nation, as the president of all of us, where your heart is at," Graham added.
Durbin reassured DACA recipients, "if you are one of those dreamers … you need to be part of America and its future."
"It's important to make the DREAM Act the law of the land now," he said. 
The news conference comes after Attorney General Jeff Sessions announced on Tuesday that President Trump decided to terminate the program on the grounds that it was unconstitutional.
Thank you for supporting MRCTV! As a tax-deductible, charitable organization, we rely on the support of our readers to keep us running! Keep MRCTV going with your gift here!