Last night on CNN, Sen. Tom Cotton (R-Ark.) slammed President Obama for failing to provide enough resources to achieve his stated goal to "degrade and ultimately destroy" ISIS.
"That's the President's stated goal. He's not providing the resources to achieve it," Cotton said.  
The Iraq war veteran turned Republican senator argued that President Obama should be listening to his top military commanders about the need for boots on the ground to effectively defeat the Islamic State.
"I wish the President … would listen to the best judgment of his military commanders," he said.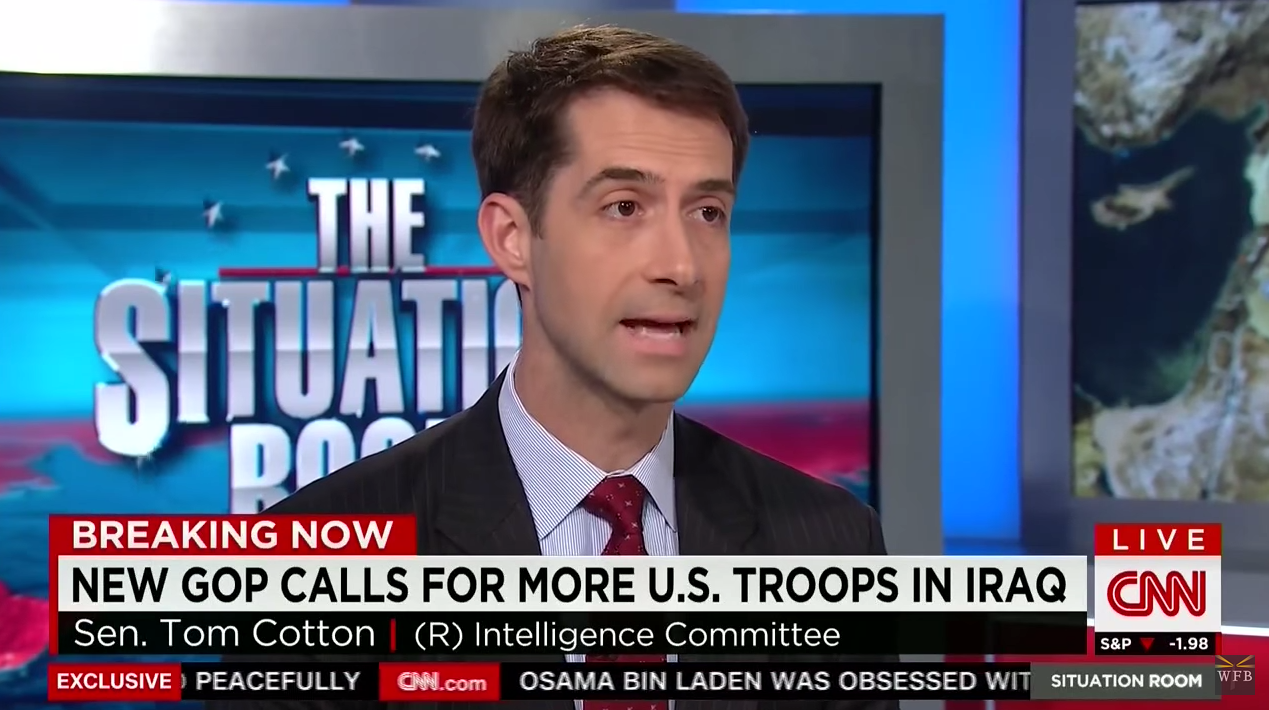 "We could use things like more Special Operations forces, air controllers, intelligence and logistics experts to help fill some of the gaps in Iraqi capabilities and try to stop this war between the Islamic State and the Iraqi population, and the government in Iraq descending into outright sectarian war—the kind I saw in Iraq in 2006."
Cotton went on, "We need to be relying on more American advisers, more trainers, people who are assisting."
In light of how reporters have been asking Republican candidates over the past couple weeks whether they believe the decision to invade Iraq was a mistake, the Arkansas senator said that "what's even more tragic" is President Obama's decision to withdraw U.S. troops in 2011 "knowing what he knew then."
"There's been a lot of talk over the last two weeks about what we would have done in 2003 knowing what we know now," Cotton began.
"I think what's even more tragic is Barack Obama knowing what he knew then in 2011, made the decision to withdraw all of our troops," he fired.  
"Those troops were a critical component to training the Iraqi army, to maintaining its pluralistic nature, and preventing sectarian warfare from breaking out."
Check out Sen. Tom Cotton's full remarks below.