A Seattle councilmember – as in, an actual elected official in the city of Seattle, no joke – is now blaming capitalism for the shooting death of a person near the "Capitol Hill Occupied Protest" zone on Monday.
A teenage boy was killed and another injured in a drive-by shooting Monday morning in the self-declared "autonomous zone," a section of several city blocks that have been taken over by protesters and essentially surrendered by the city government.
Police Chief Carmen Best said law enforcement responded to a call around 3 a.m. Monday and found a Jeep "riddled with bullets." A 14-year-old teenage boy was taken to a nearby hospital by a private vehicle, while a 16-year-old was transported by medics with the Seattle Fire Department. The 16-year-old later died, while the 14-year-old remained in critical condition.
Now, Seattle City Councilwoman and "Socialist Alternative" activist Kshama Sawant is blaming "capitalism" for the shooting, saying that while she doesn't have "details" about the incident, it's nonetheless a result of "capitalism's brutality [and] endemic violence."
"While we await details of this tragic killing, it highlights capitalism's brutality & endemic violence," Sawant tweeted. "Our movement rejects insinuations & falsehoods perpetuated by corporate & conservative media that this violence is outcome of CHOP or of our movement."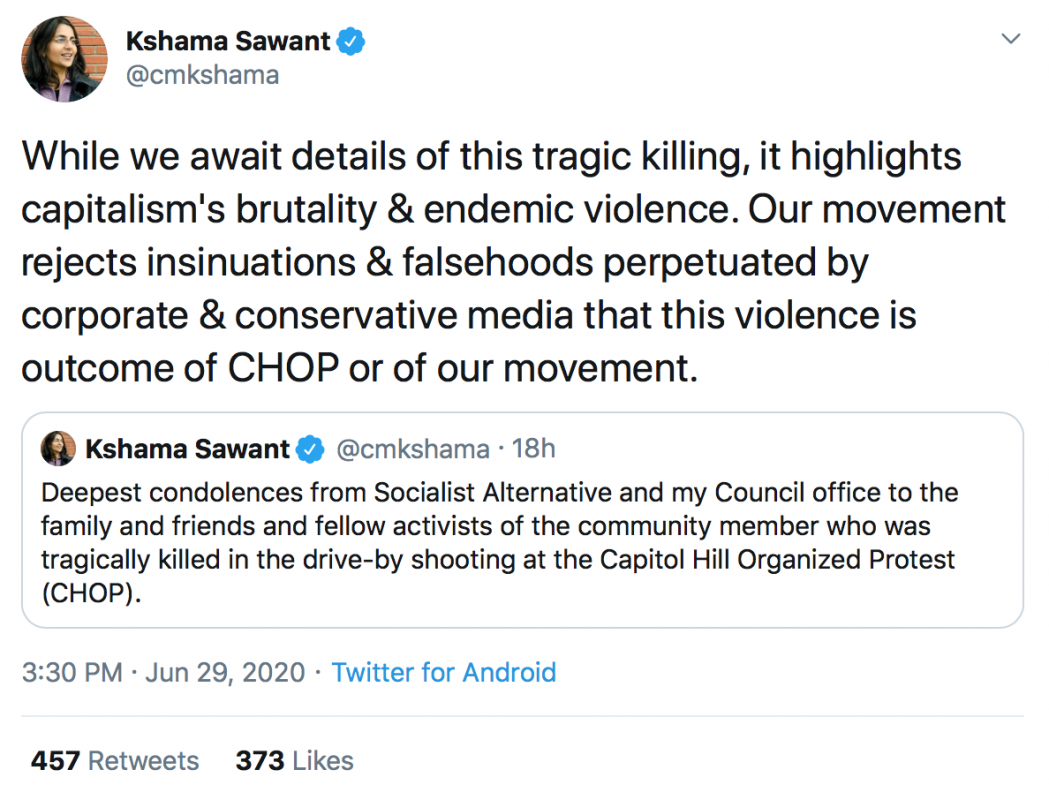 Of course, Sawant didn't elaborate on how, exactly, "capitalism" is to blame for a teenager getting shot in a large protest site filled with a bunch of violent anarchists who, among other things, hate capitalism. 
Probably because it's not.