It didn't take long for celebrity liberals to turn the future sale of an NFL franchise into a social justice issue.
Only hours after reports surfaced that Carolina Panthers owner Jerry Richardson would put his team up for sale at season's end after allegations of sexual misconduct and possible racism, hip-hop mogul Sean "Diddy" Combs tweeted of his interest in purchasing the franchise.
Here's Combs' tweet: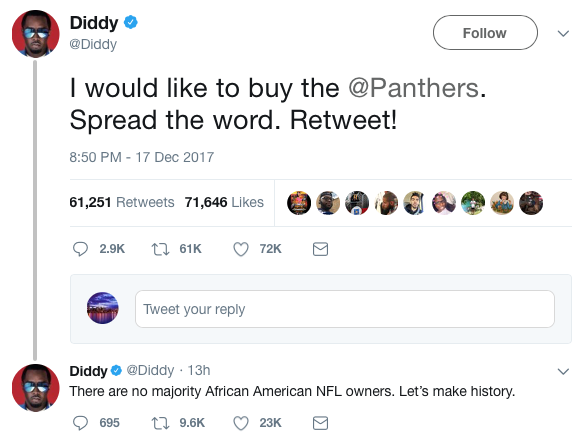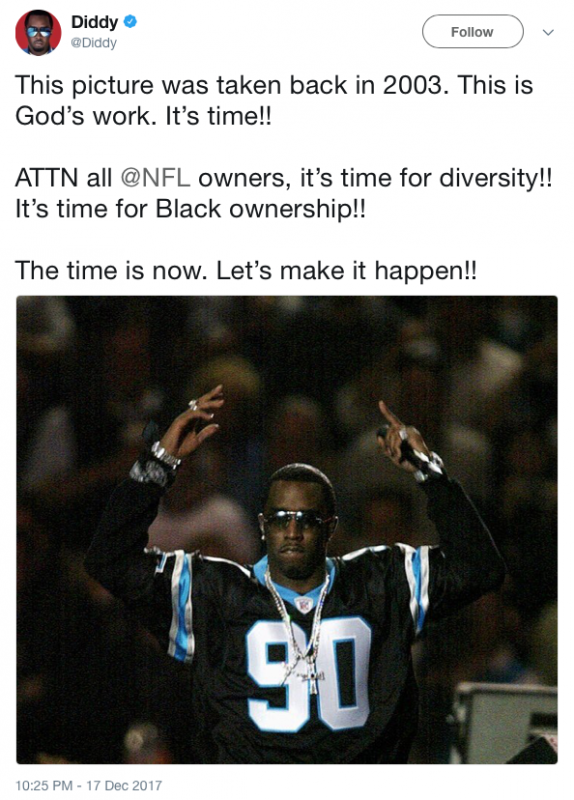 As you can see, Combs immediately turned his interest in the Panthers into a race issue — because why wouldn't he? That won't help Combs in his pursuit of NFL ownership. If he would have simply come at it from a business perspective instead of a racial one, the odds for his possible ownership bid would hold more weight in the eyes of the other 31 NFL franchise owners.
This isn't the first time Combs has talked about owning a football team under the auspices of race. Back in October, Combs indicated that he was interested in starting up an all-black league.
"I did have a dream to own a NFL team but now my dream is to own our own league," Combs said in a tweet.
It's not about black and white. It's about green.
If that weren't enough, Combs continued to do himself no favors by bringing up the name of unemployed social justice quarterback Colin Kaepernick.
Combs took to Instagram to address both his interest in the Panthers and Kaepernick:
Combs does know that the Panthers already have a franchise quarterback in Cam Newton, right? Kaepernick is basically a knock-off version of Newton — and while Kaepernick would fit the Panthers system in the event of a Newton injury — simply hiring Kapernick to prove some sort of social justice point wouldn't help Combs ingratiate himself to the Carolina fanbase.
Oh, and who cares if you have the best halftime show? Fans don't go to football games for a concert. They want to see their team win. Plus, NFL halftime shows have basically become bathroom breaks for those interested in the game itself. Richardson said in a statement that the team won't be up for sale until the current NFL season is over.
Here's part of Richardson's statement:
I believe that it is time to turn the franchise over to new ownership. Therefore, I will put the team up for sale at the conclusion of this NFL season. We will not begin the sale process, nor will we entertain any inquiries, until the very last game is played. I hope everyone in this organization, both on and off the field, will be firmly focused on just one mission: to play and win the Super Bowl.
Combs' interest might just be hot air at this point, but it should be interesting to see the sale process during the upcoming offseason.
Thank you for supporting MRCTV! As a tax-deductible, charitable organization, we rely on the support of our readers to keep us running! Keep MRCTV going with your gift here!