Who says you need to be a part of the one percent to fly aboard a private jet?
Glasgow, Scotland-native and author Karon Grieve received the star treatment aboard a Jet2 flight from Glasgow to Heraklion, which is on the Greek island of Crete, on Sunday.
And the whole thing only cost Grieve $60.
The Jet2 plane typically can carry up to 189 passengers, but this particular flight only had three reservations. When the other two people who booked the flight didn't show up, Grieve had the plane all to herself.
"The crew arrived -- the pilot, first officer and the air stewards. And they all knew my name," Grieve told CNN. "They all came on and said, 'Hi Karon, how are you?' They were all laughing and saying I've got my own private jet."
Grieve posted to Twitter to praise Jet2's hospitality: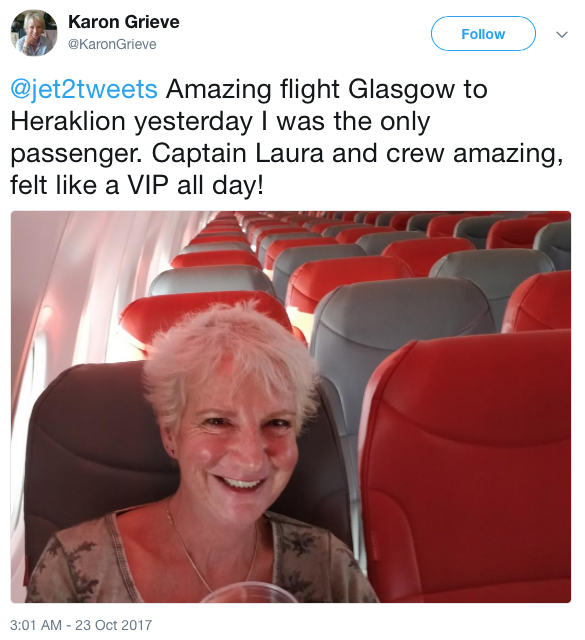 At least the crew played along. When the pilot came on the intercom to make an announcement, she reportedly would address Grieve by name. Heck, there was no one else on the flight. Why not?
Here's what Grieve had to say about the levity of the situation:
Every time she [the captain] made an announcement she said, 'Hi there Karon, you'll see Croatia on your left-hand side', and then we flew through this amazing lightning storm and she suddenly came on and said, 'Hi Karon and the girls, quickly run to the other side of the plane and look at this, it's amazing.' It was just surreal.
Too funny.
Of course, there are always those that want to put a negative spin on everything, as evidenced by some reactions she received online about her story, but Grieve politely discounted their outrage.
CNN reported on Grieve's response to critics of the airline's decision to proceed with the flight:
There's always someone that's going to be negative though, isn't there?

There's been so many stories about bad budget airlines and this is the first time there's been a feel-good story. Why do people have to knock it and bring it down? That's just nasty.
Grieve is lucky she doesn't have to be surrounded by all of the self-professed "nasty women." We're talking to you, Ashley Judd.