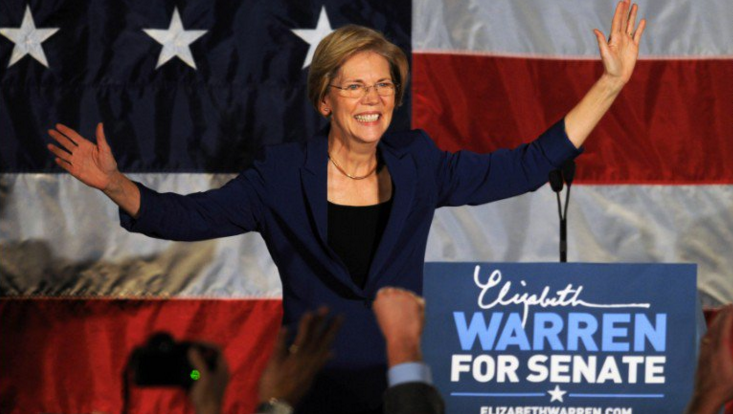 (Image via Twitter)
Former Sen. Scott Brown (R-Mass.) is again calling for his former Senate opponent Elizabeth Warren (D-Mass.) to "take a DNA test" or release records that prove her claims of Native American heritage.
Brown – who lost to Warren in 2012 – questioned her honesty and credibility during an RNC conference call following the Clinton rally in Cincinnati, Ohio, on Monday.
"As we all know, she's not Native American," said Brown. "She's not 1/32nd. She has no Native American background, except for what her family told her."
"The easy answer, as you all know, is that Harvard and Penn can release those records," he continued. "She can authorize the release of those records. She can take a DNA test. She can release the records herself. There's never been any effort."
"Secretary Clinton is considering making someone the vice president who has very serious character flaws when it comes to honesty and credibility and dealing with her heritage," Brown argued. "And what did that do? That took away somebody who truly was a Native American and gave that opportunity to somebody who is not, and that's just not right. It's a reverse form of racism, quite frankly."
Donald Trump reportedly spoke with NBC News reporter Hallie Jackson after Monday's rally, criticizing Warren as "a total fraud" and "racist" for claiming to be Native American. 
"Elizabeth Warren is a total fraud," Trump told Jackson. "I know it." 
"She made up her heritage, which I think is racist," he went on. "I think she is a racist, actually because what she did was very racist."
"We call her Pocahontas for a reason," he added.
The Massachusetts senator's increasing time in the spotlight is fueling speculation of her rise to the top of Clinton's vice presidential short list. 
During a contentious Senate race against Republican Scott Brown in 2012, Warren denied dishonestly listing herself as Native American while working at the University of Pennsylvania and Harvard in an effort to advance her career. She provided no proof to substantiate her claim.