Senate Minority Leader Chuck Schumer tweeted on Wednesday that President Trump should not be allowed to meet with Russian President Vladimir Putin alone.

He failed to elaborate on what he was suggesting. 
Schumer went on to say that Trump's criticism of Germany at the NATO summit on Wednesday was an "embarrassment" and serves as "another profoundly disturbing signal" that he is "more loyal" to Putin "than to our NATO allies."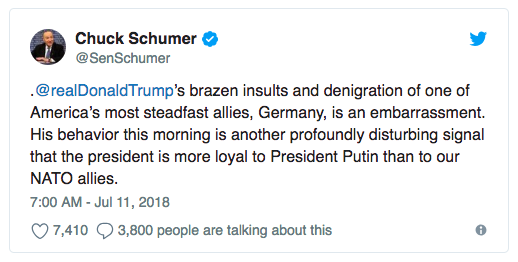 Schumer added that if Trump leaves his planned meeting with Putin without "ironclad assurances & concrete steps toward a full cessation of Russian attacks on the US," the meeting will not only be considered a failure but "a grave step back for the future of intl order & global security."
"The president needs to remember that, as Commander-in-Chief, his duty is to protect the American people from foreign threats, not to sell out our democracy to Putin," he wrote in another tweet.
The media was up in arms after Trump joked with reporters before departing for Brussels on Tuesday that out of the NATO summit, his trip to the U.K., and his meeting with Putin in Helsinki next week, "frankly, Putin may be the easiest of them all."
"Who would think?" he said.
Despite media coverage suggesting otherwise, Trump has stated that he will bring up election meddling, as well as the topics of Ukraine, Syria, and Crimea, during his one-on-one meeting with Putin.
Sponsored Links