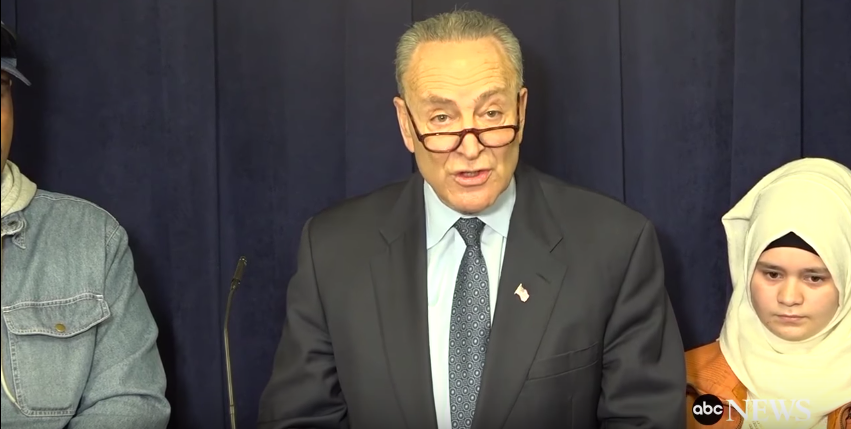 ​Recently, Senate Minority Leader Chuck Schumer (D-N.Y.) has been a staunch opponent of President Trump's executive orders on immigration. However, Schumer once held a much different view on the government's role in keeping out terrorists who might abuse the immigration system.
While speaking on Jan. 29, Schumer teared up while talking about Trump's "mean-spirited and un-American" executive order, which bars entry to the country for refugees from seven countries for 90 days. The executive order also indefinitely bars entry to refugees coming from Syria.
The countries on the list -- Iraq, Syria, Sudan, Iran, Somalia, Libya, and Yemen -- appear to come from former President Obama's Visa Waiver Program Improvement and Terrorist Travel Prevention Act from 2015.
As noted by Town Hall, in 2015, Schumer tweeted about the need to "tighten loopholes in the Visa Waiver" program in order to stop terrorism: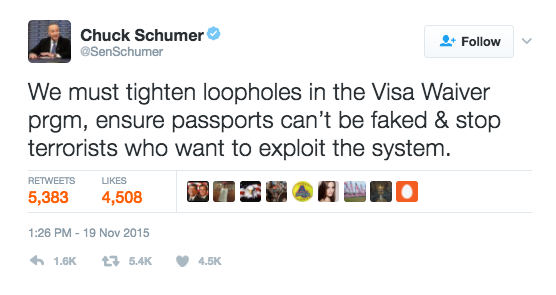 In 2015, The Hill noted that Schumer supported the most controversial part of Trump's executive order: the part indefinitely suspending Syrian refugees from coming to the United States. The Hill claims Schumer believed "it may be necessary to halt the resettlement of Syrian refugees in the United States."
It is unclear what changed for Schumer between 2015 and 2017, other than one particularly significant election.
Thank you for supporting MRCTV! As a tax-deductible, charitable organization, we rely on the support of our readers to keep us running! Keep MRCTV going with your gift here!