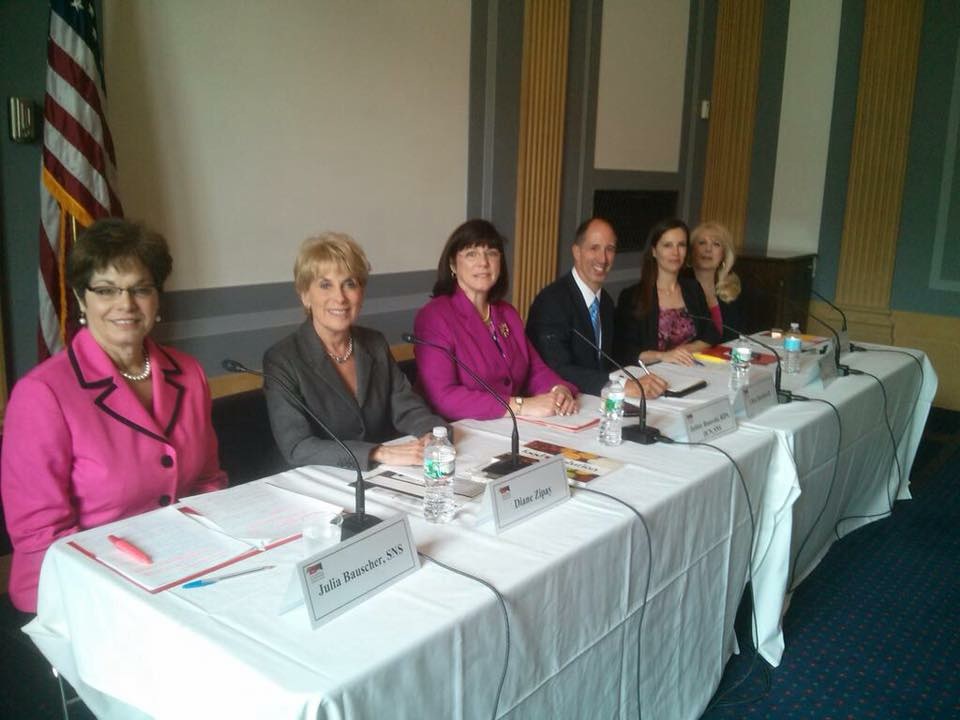 School nutrition professionals from across the country bemoaned the negative impacts of new nutrition standards on school meal programs and the students and districts they serve in two congressional staff briefings hosted by the School Nutrition Association (SNA).
The new standards are actually driving students to eat more junk food and seek out tastier meals elsewhere, the nutritionists told the June 11 briefing:
"With a la carte choices so limited, many students go off campus for fast food, soda and sugary snacks. We have experienced a 10 percent drop in revenue and anticipate a nearly $175,000 loss this school year." - Siri Perlman, RD, Nutrition Specialist, San Dieguito Union HS District, CA
"Students used to love the spinach and tomato wraps from our Made-Fresh-for-You bar, but they just don't like the flavor of the new whole grain wraps. With all the changes, my paying students are walking away from the program." - Debbi Beauvais, District Supervisor of School Nutrition Gates Chili, East Rochester & East Irondequoit Schools, NY
As a result, new standards are causing costs to skyrocket and program participation to plummet, the panelists said:
"Since 2013, 100 percent of North Carolina's school meal programs have been in compliance with the new school meal standards, but compliance has come at a cost." - Dr. Lynn Harvey, Chief of School Nutrition Services for North Carolina's Department of Public Instruction.
"Despite an increase in student enrollment, North Carolina has experienced a 5 percent decline in student lunch participation due to the new standards, and breakfast participation is down in more than half of North Carolina's school districts.
"Food costs and plate waste are up significantly, but schools have fewer resources to manage these losses, with a la carte revenue down by $20 million under the new Smart Snacks requirements." - Dr. Lynn Harvey, Chief of School Nutrition Services for North Carolina's Dept, of Public Instruction.
"We want to invest more resources into these initiatives, but the cost of meeting some of the new standards is overwhelming. We are all passionate about serving healthy meals and snacks and teaching kids about food.
"Unfortunately, some of these arbitrary rules are forcing programs to spend more on packaged foods just to meet regulations, limiting our ability to invest in fresh, wholesome foods and market those healthy choices to students." - Diane Zipay, Director of Nutrition Services, Westside Community Schools, Omaha, NE
"Lunch participation under the new standards is down 15 percent. We are serving 100,000 fewer meals, but costs are up significantly. We have no funding left to invest in further improvements, and our program is ineligible for federal equipment grants or other assistance available to districts with higher free and reduced price participation." - Chris Burkhardt, Director of Child Nutrition and Wellness, Lakota Local School District, OH
USDA estimated that schools must absorb $1.2 billion in added costs under the new rules in Fiscal Year 2015 alone, but declining student lunch participation leaves schools with even less revenue to manage higher costs. According to USDA data, more than one million fewer students choose school lunch under the new standards.
Nationwide, 95 percent of schools are meeting the required standards, but compliance has resulted in fewer students eating healthy school lunches and rising costs that are crippling many school meal program budgets. SNA's official position paper supports most of the mandates, but is calling for increased funding and flexibility under the rules to help ease these challenges.
The School Nutrition Association (SNA) is a national, non-profit professional organization representing 55,000 school nutrition professionals across the country.