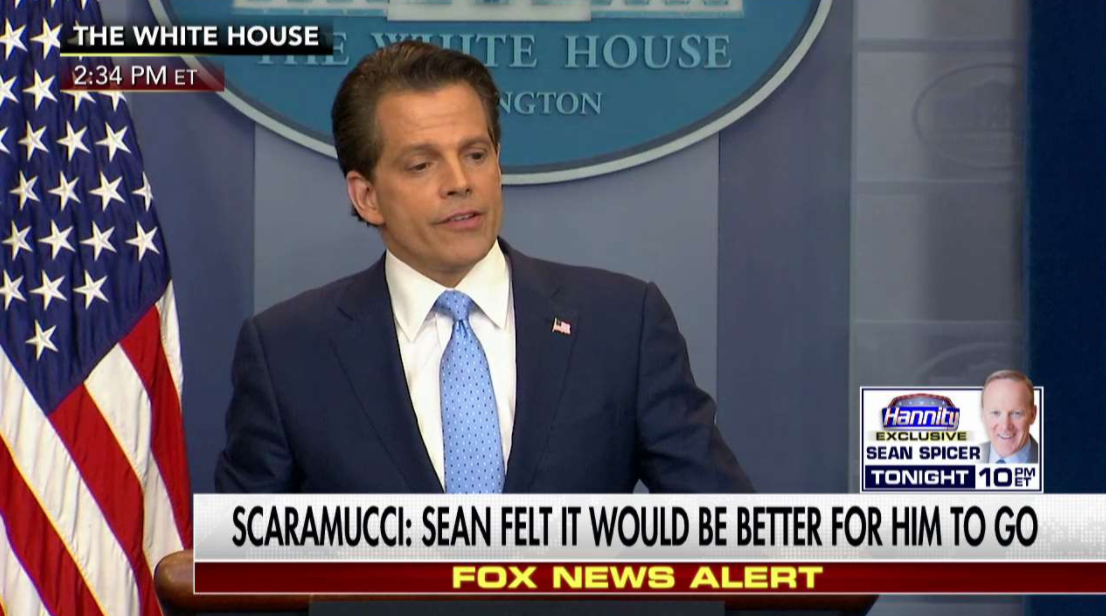 New White House communications director Anthony Scaramucci praised Sean Spicer at Friday's press briefing as "a true American patriot" who's "done a great job."
"I want to thank personally Sean Spicer, not only on behalf of myself, the President, the administration … Sean is a true American patriot. He's a military serviceman. He's got a great family. And he's done a great job. This is obviously a difficult situation to be in and I applaud his efforts here," said Scaramucci.
"I love the guy and I wish him well," he added.
He didn't go into detail regarding the conversation he had with President Trump Friday morning and how the offer was extended. 
When asked if he had any skepticism about the offer knowing that it would cause tension within the White House, particularly with Spicer, Scaramucci said that as a business person, he's used to dealing with "a little bit of friction" now and then.  
"Remember, I'm a business person," he said. "What happens in business a lot of the times is you have some rotations in personnel... I would love to have Sean here. Sean decided that it would be better to go. And for me, as it relates to Sean, it speaks volumes to who he is as a human being, who he is as a team player. 
"His attitude is, if Anthony's coming in, let's clear the slate for Anthony, and I do appreciate that about Sean," Scaramucci went on. "And I love him for it. But I don't have any friction with Sean. I don't have any friction with Reince. This is the White House, the United States of America. We're serving the President. And I want to make sure... we put the President's agenda first and we serve his interests."
"If we have a little bit of friction inside of the White House because of it, that's OK," he added.
Scaramucci also announced that, with Spicer's resignation, former deputy press secretary Sarah Huckabee Sanders will be the new White House press secretary.
Sean Spicer resigned from the position of White House press secretary on Friday.
His decision to quit came after President Trump decided to hire Anthony Scaramucci, Wall Street financier and Fox News Channel contributor, as the new White House communications director.
Spicer reportedly objected to Scaramucci's hiring.
He had been handling the communications director's responsibilities ever since Mike Dubke resigned in May.  
Spicer tweeted that "it's been an honor & a privilege to serve" President Trump and that he plans to continue his duties through August.
Spicer's departure was a long time coming, as rumors swirled for months that President Trump was considering a major staff shakeup in May.
He was press secretary for six months.
Spicer will be on "Hannity" Friday night, along with appearances by Scaramucci and Reince Priebus. 
Thank you for supporting MRCTV! As a tax-deductible, charitable organization, we rely on the support of our readers to keep us running! Keep MRCTV going with your gift here!