(Image source: Twitter)
It wasn't enough to take childhood heroes and turn them gay. Now, even Santa likes guys.
TIME reports "Late Show with Stephen Colbert" writer Daniel Kibblesmith has written a children's book, "Santa's Husband," which portrays Santa as a black man in an interracial gay relationship with a white man.
The book was inspired by one of Kibblesmith's tweets in which he says he will teach his future children that Santa is black and that any depictions of Santa as white must be "his husband":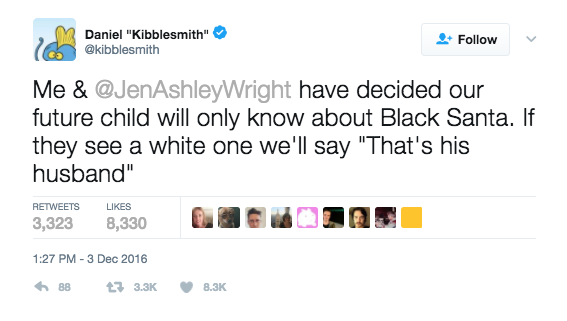 According to TIME, the couple lives in the North Pole and Santa's husband fills in for him at malls.
While the book is being described as a parody in the vein of the "Go the F**k to Sleep" mock children's book, it is unclear what is satirical about the book. Unlike the clearly adult "Go the F**k to Sleep" book, Kibblesmith maintains the book is for all ages. In fact, the book has already received praise from gay news sites such as Pink News. Despite the book allegedly being satirical, detractors were described as "white supremacists and other homophobes."
The book, published by Harper Design, will be released on Oct. 10 -- just in time for Christmas.
Thank you for supporting MRCTV! As a tax-deductible, charitable organization, we rely on the support of our readers to keep us running! Keep MRCTV going with your gift here!