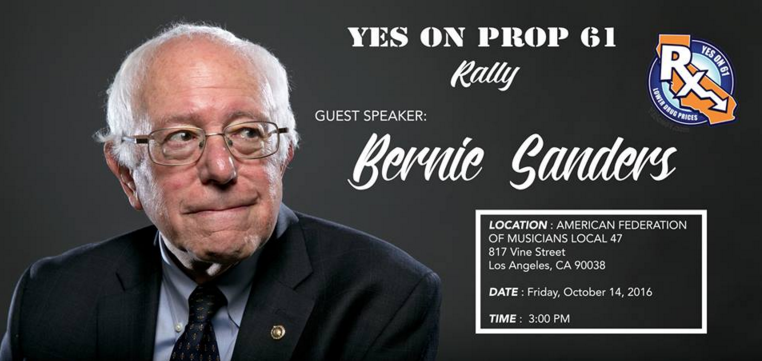 (Image via Twitter)
Vermont Sen. Bernie Sanders (I) is set to speak at a "Yes on Prop 61" rally in Hollywood, Calif., on Friday in support of a measure to drive down the costs of prescription drugs.
In a video he tweeted on Thursday, the former Democratic presidential candidate explained why he supports the proposition: 
"The time is long overdue for the American people to stand up to the greed of the pharmaceutical industry," he argues. "Proposition 61 is a very, very important step forward. It will be great for the taxpayers of California and it will be a real blow against this greedy industry that will reverberate all over America."
Prop 61, also called the California Drug Price Relief Act, would mandate the state pay the same prices for prescription drugs as the lower prices paid by the U.S. Department of Veterans Affairs (VA), which proponents claim will drive down drug pricing and result in significant savings for California taxpayers.
More than a dozen military and veterans organizations including California's Veterans of Foreign Wars (VFW), AMVETS, and Military Officers Association of America urge citizens to vote "no" on the proposition.
Veterans strongly oppose the measure because drug manufacturers contracted with the VA may raise their prices to compensate for extending VA contract pricing to those outside of the Department's care.
This would not only raise drug prices across the state as the proposition mandates California match VA drug pricing, but would also undermine the discounts provided to veterans in honor of their service and result in increased health costs for veterans and their families.