(Update 9:00AM 5/25 With Trump tweet on issue)
White House Press Secretary Sarah Huckabee Sanders was asked to leave The Red Hen restaurant in Virginia by the business owner because she works for the Trump White House.
The owner of the Lexington, VA restaurant, Stephanie Wilkinson told the Washington Post that when she was told Sansders was at her restaurant Friday night, she left her house and drove to the establishment.
Then she asked Sanders to step outside to talk.
According to the Washington Post:
I was babbling a little, but I got my point across in a polite and direct fashion," Wilkinson said. "I explained that the restaurant has certain standards that I feel it has to uphold, such as honesty, and compassion, and cooperation.

"I said, 'I'd like to ask you to leave.' "

Wilkinson didn't know how Sanders would react, or whether Trump's chief spokeswoman had been called out in a restaurant before — as the president's homeland security secretary had been days earlier.

Sanders's response was immediate, Wilkinson said: " ' That's fine. I'll go.' 
On Saturday Sanders tweeted about her experience.

Sanders' father, former governor Mike Huckabee tweeted about it as well.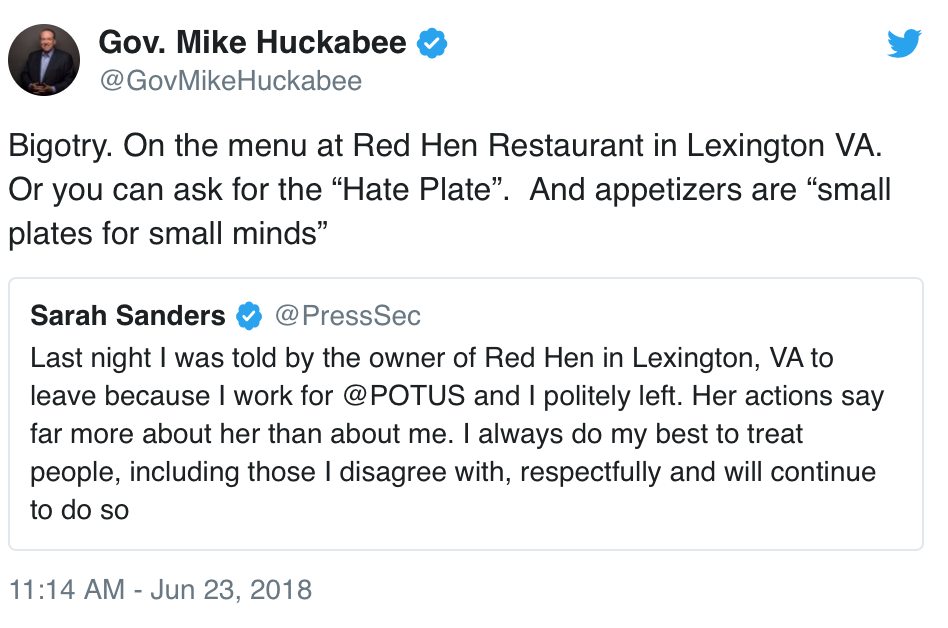 On Monday morning President trump tweeted about the issue as well.