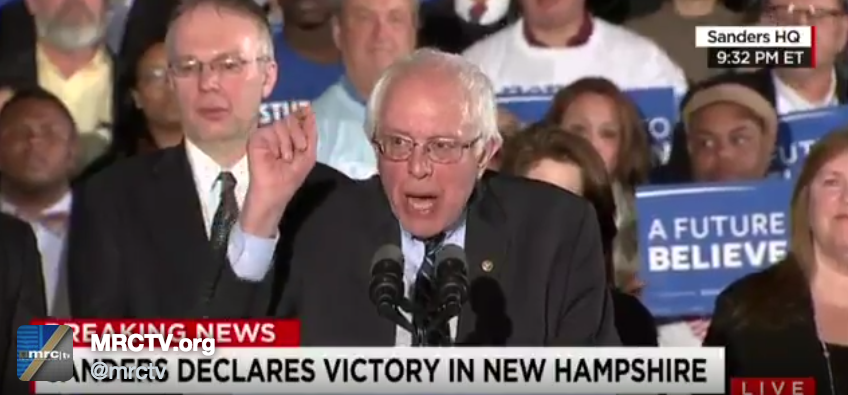 Image via Screenshot/Twitter
Vermont Senator Bernie Sanders got riled up during his New Hampshire Democratic primary victory speech Tuesday night.
He declared that Americans across the political spectrum must not allow "right-wing Republicans" to win the U.S. presidency.
"This a message not just to our opponents, but to those who support me as well, that we will need to come together in a few months and unite this party and this nation because the right-wing Republicans we oppose must not be allowed to gain the presidency," said Sanders.
He went on to blame Republicans for the Great Depression in the 1930s, saying that America cannot allow "the same-old establishment politics and economics" to continue. 
"What the people here have said is that given the crises facing our country, it is just too late for the same-old, same-old establishment politics and economics," said Sanders of his N.H. primary win. "The people want real change."
Sanders took first place in the granite state with 58 percent, followed by Clinton with 40 percent and former Maryland governor Martin O'Malley with zero percent.
Check out Sanders' remarks and his audience's reaction in the short video clip below.
MRCTV Reader,
The liberal media are terrified of the truth, especially when it leads to uncomfortable questions about their own leftist worldview.
MRCTV is the multimedia division of MRC featuring original content and aggregated videos of the news, people, and events conservatives care about.
MRCTV relies on the support of our loyal readers (and video viewers) to keep providing the news and commentary that matter to the American people, not just stories that prop up the liberal agenda.
Make a donation today. Just $15 a month would make a tremendous impact and enable us to keeping shining the light where the liberal media are afraid to tread.
— The MRCTV Team
DONATE
Connect
Sign up for our MRCTV newsletter to receive the latest news.
Sponsored Links