Secretary of State Mike Pompeo on Friday announced that the Trump administration plans to reimpose sanctions lifted by the Obama administration's nuclear agreement with Iran on Monday.
The Trump administration's decision to reimpose sanctions on Iran "is aimed at depriving the regime of the revenues it uses to spread death and destruction around the world," said Pompeo in a call with reporters. "Our ultimate aim is to compel Iran to permanently abandon its well documented outlaw activities and behave as a normal country." 
According to The Hill, Pompeo said that the administration will grant eight "jurisdictions" exemptions – but only temporarily.
It has been reported that the eight jurisdictions may include India, South Korea, Japan, and possibly China.
The Hill reports,
In withdrawing from the [Iran nuclear] agreement, Trump gave companies and countries doing business with Iran two 'wind-down' periods before the United States would reimpose sanctions.

The first 90-day period ended in August. At that point, the United States reimposed sanctions on transactions with U.S. dollar banknotes; trade in gold and precious metals; direct or indirect sales of graphite, raw or semi-finished metals; and Iran's automotive sector.

But the more significant sanctions aren't being reimposed until the end of the second, 180-day period. The last day of that period is Sunday, with sanctions set to be reimposed at midnight.

In addition to sanctions on Iran's energy sector, Monday's sanctions will target Iran's shipping, shipbuilding and financial sectors.

Of the eight jurisdictions getting waivers for the energy sanctions, Pompeo said two will reduce their imports to zero within weeks, while the other six will import 'at greatly reduced levels.'
Pompeo said that the European Union – which consists of 28 countries including the UK – will not be on the list of countries granted waivers.
President Trump on Friday tweeted a Game of Thrones "Winter is Coming"-style meme with the message, "Sanctions are Coming," his own way of confirming the news: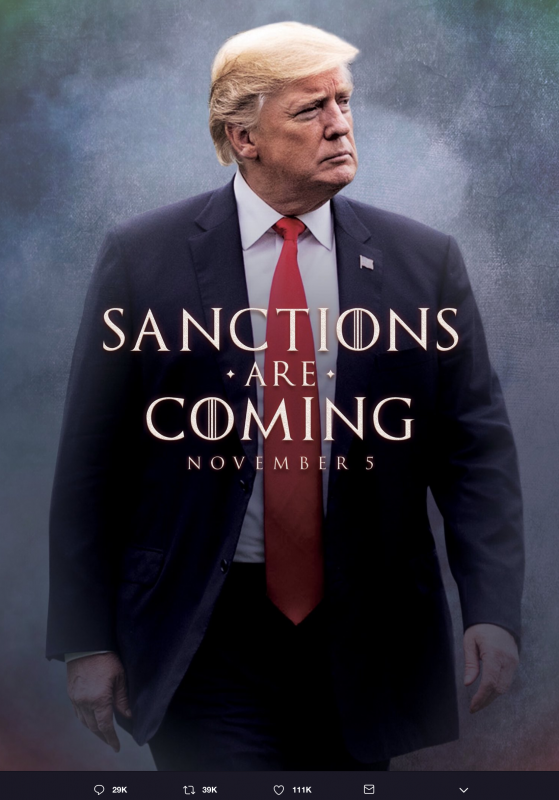 It's unclear where he got the meme from, or he created it himself. 
In ridiculous fashion, HBO issued a statement asking Trump not to "misappropriate" their trademark.